Jon Jones, Dwayne Johnson, Maisie Williams and More React to Khabib Nurmagomedov's Victory at UFC 254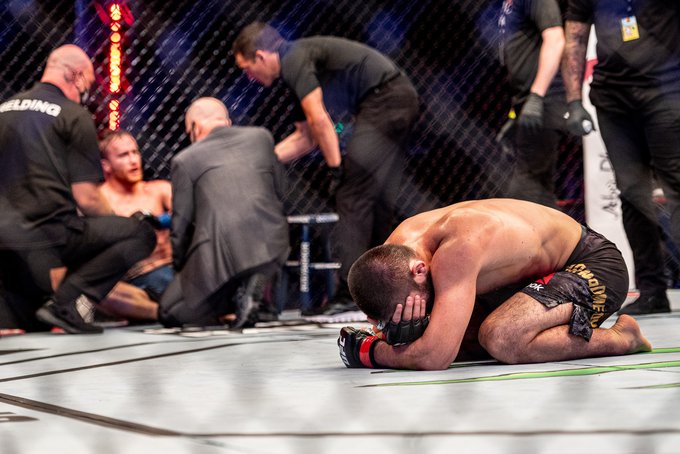 Khabib Nurmagomedov vs Justin Gaethje was perhaps the most anticipated fight of this year. Fans touted the lightweight showdown between the two men as the best lightweight title fight in the promotion's history. 
Despite all the buzz surrounding Justin Gaethje and the skills he possesses, it was Khabib Nurmagomedov who secured the win and moved to 29-0. The Dagestani fighter was showered with praises from all corners of the world. Celebrities from all walks of life tuned in to witness greatness and took to Twitter to laud the champion. Here are some of the best reactions on Twitter. 
Khabib Nurmagomedov vs Justin Gaethje captures the attention of the whole world
The fight between Khabib Nurmagomedov and Justin Gaethje at UFC 254, was trending to be the biggest PPV event ever, as per Dana White. Given the status of Khabib has and his popularity, it's no surprise that the whole world was watching. 
Let's work Khabib!!! #ufc254

— Draymond Green (@Money23Green) October 24, 2020
Power Forward for the Golden State Warriors and 3-time NBA champion Draymond Green showed his support for 'The Eagle'. He wrote, "Let's work Khabib."
Congratulations to my brother 🙏🏿🙏🏿 @TeamKhabib and keep your head up my brother @Justin_Gaethje #UFC254

— KAMARU USMAN (@USMAN84kg) October 24, 2020
Welterweight champion Kamaru Usman, who is under the same management as Khabib, took to Twitter to congratulate both Justin Gaethje and Khabib Nurmagomedov. 'The Nigerian Nightmare' defended his belt for the second time when the UFC first came to Fight Island. 
The best to ever do it @TeamKhabib

— Cody Garbrandt (@Cody_Nolove) October 24, 2020
Former bantamweight champion Cody Garbrandt made a strong statement when he tweeted that Khabib was the "Best to ever do it"
Khabib has this 🐻 #UFC254

— Maisie Williams (@Maisie_Williams) October 24, 2020
Actress Maisie Williams from Game Of Thrones also showed her support for 'The Eagle' via Twitter. 
The Legacy of Khabib is unmatched 👏🏻👏🏻

What an emotional moment after losing his father earlier this year. #ufc254

— Megan Anderson (@MeganA_mma) October 24, 2020
Featherweight Megan Anderson who is set to face Amanda Nunes towards the end of this year tweeted about Khabib's legacy 
Gotta crush this training session now but #UFC254 just started. 2pm fights threw me off dammit 😂
Best of luck to all the fighters and put on a great show! Training comes first.. checking my phone for updates.#ineedmyfix 🤣 #hardestworkersintheroom

— Dwayne Johnson (@TheRock) October 24, 2020
Former WWE star and hardcore UFC fan Dwayne Johnson took to Twitter to share that even though he was training, he would keep checking his phone for updates on the fight. The magnitude of the fight was such that it could distract 'The Rock' from his work out. 
#UFC254 #Khabib just proved why he is the champ

— BONY (@JonnyBones) October 24, 2020
Khabib is gunning for the top spot on the pound-for-pound fighter rankings. However, the current number one Jon Jones took time out of his day to appreciate the work of a fellow champion.  
What did you make of Khabib Nurmagomedov's twenty-ninth UFC win?
Continue the conversation on the app, join other MMA fans on MMA Fans App