Five Shocking Moments in the UFC
Published 10/07/2020, 9:56 AM EDT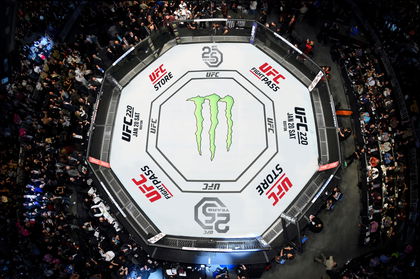 ---
---
The UFC as an organization has had numerous jaw-dropping moments. MMA is an extremely unpredictable sport. More so than most other sports as any fight can end in a blink of an eye. This is one of the many reasons that draw fans towards the sport. Over the course of its existence as a promotion, the UFC has had many moments that have left fans flabbergasted, both inside and outside the octagon. Here are a few of those moments. 
ADVERTISEMENT
Article continues below this ad
UFC 239: Fastest Knockout
When it comes to shocking moments in the UFC, it's hard to deny Jorge Masvidal's KO win over Ben Askren a top spot. His five-second knockout is the fastest in UFC history. Heading into the fight, 'Gamebred' was set to face an undefeated former ONE Championship champion. 
ADVERTISEMENT
Article continues below this ad
Having previously won his debut fight against Robbie Lawler, 'Funky' was the favorite going into the fight. However, Masvidal had other plans as he ran forwards and executed a perfectly timed flying knee just as Ben was going for a takedown. This left fans astounded. 
UFC 229 post-fight brawl 
The fight between Conor McGregor and Khabib Nurmagomedov was one of the biggest fights in UFC history. 'Notorious' is the biggest star the sport has ever had. In 'The Eagle' he faced an undefeated champion. In the build-up to the fight, the trash talk crossed all limits as family, religion, friends were all dragged in. This would ultimately boil over immediately after the fight. 
After Herb Dean stopped the fight, a furious Khabib was seen throwing his mouthguard at Dillon Danis. What ensued was a heated exchange between the two men. Soon thereafter, Khabib leaped out of the octagon and went straight for Danis. This caused a domino effect as the two camps were involved in a brawl outside the octagon. Seeing this as an opportunity, a few members from 'The Eagle's' camp jumped into the cage and assaulted an unaware Conor. It was one of the craziest events MMA fans had witnessed.
The introduction of a women's division in the UFC 
It is no secret that Dana White vehemently opposed the idea of women fighting in the UFC and said that women would never fight in the UFC. This changed in 2013 when Ronda Rousey and Liz Carmouche had the first women's fight at UFC 157.
The fight had a bit of everything. Carmouche had Rousey in trouble early on. However, 'Rowdy' rallied on and secured an arm-bar win which went on to become one of her signature moves. It has been seven years since women were allowed to compete in the UFC. Now, it is safe to say the fights in the women's division rival the men's division in every aspect. 
Matt Serra shocks Georges St. Pierre 
Heading into his fight against the welterweight champion, Matt Serra was a huge underdog. Prior to fighting 'Rush' for the title, Serra's biggest accomplishment was winning The Ultimate Fighter to earn a title shot. 
Ahead of the fight against Georges, Serra had never knocked out an opponent in his career. His only stoppage win was a triangle choke against Kelly Dullanty at UFC 36. Serra could not have asked for a better fight to secure his first TKO win than the one against St. Pierre. The fact that Serra won was an immense shock. However, that was overshadowed by the manner of his victory. 
Holly Holm knocks out Ronda Rousey
Not only was Ronda Rousey the first female champion in the UFC, but she was also among the most dominant female champions ever. She had defended her belt six times before facing Holm. Out of those six fights, only one made it past round one. Ronda seemed unstoppable as she steamrolled everyone in her way. She not only defeated her opponents, but made world-class fighters look like amateurs.
ADVERTISEMENT
Article continues below this ad
Heading into her seventh title defense against Holm, Rousey was a heavy favorite. Her previous three wins were all stoppages with a combined time of less than one minute.
Most people had written off Holly Holm. However, in front of one of the biggest live audience, the UFC had ever seen, 'The Preacher's Daughter' pulled off one of the biggest upsets in the sport when she knocked out Holm in the second round of their fight with a perfectly placed head kick. 
ADVERTISEMENT
Article continues below this ad