Francis Ngannou's Coach Says the Belt Was Just a 'Formality'
Published 03/30/2021, 6:24 AM EDT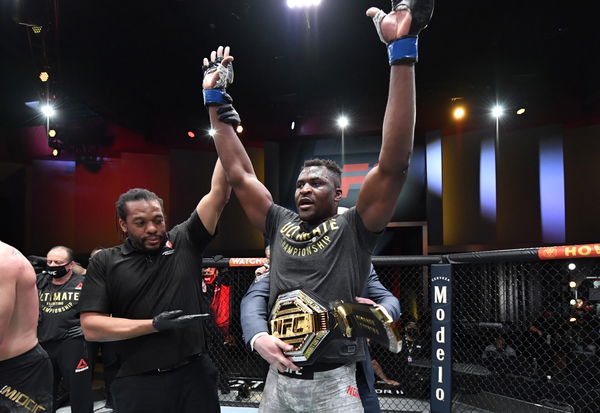 ---
---
Francis Ngannou became the first African Born heavyweight champion in the history of the UFC when he stopped Stipe Miocic in round two at UFC 260. It was evident that 'The Predator' took his lessons from the first fight and applied it well in their rematch to secure the win this time around. 
ADVERTISEMENT
Article continues below this ad
The common consensus going into the fight was that Miocic would use his wrestling to wear out Ngannou like he did last time around and secure the win once again. However, the Francis we saw in the cage at UFC 260 was extremely calm and composed and stuck to his game plan. A lot of the credit for the same goes to his coaches over at Xtreme Couture. 
Read: 'Unfortunately I Deviated From the Game Plan'- Stipe Miocic Releases Statement After UFC 260 Loss
ADVERTISEMENT
Article continues below this ad
Erick Nicksick shares his thoughts on Francis Ngannou's performance at UFC 260
In a recent interview with MMA Junkie, the interviewer asked Nicksick what was the last thing he told Francis before walking into the ring and what the mood was like in the camp. 
ADVERTISEMENT
Article continues below this ad
He said,
"You know it was an undeniable feeling. We felt the universe had already written this for us. We just knew that we had to go out and execute the game plan, and the title was a formality. We were just going to pick it up and collect it."
Nicksick continued,
"So everything was calm man everything was calm. All the coaching staff, Francis, the mentality was all on the same wavelength. One guy wasn't nervous, one guy wasn't over-excited… we were just calm, cool, and collected man. I just gave him a big old hug and told him I loved him and this was his destiny to go pick it up. That was really it. For the most part, everything was really smooth."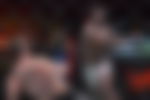 'The Predator' is usually known for unloading a frenzy of punches when his opponent is hurt. And while this has worked for him in the past, Miocic iss a lot better at absorbing his shots than other contenders. Therefore, 'The Predator' had to make sure to pace himself and not burn himself out in the early rounds, which he did extremely well. 
ADVERTISEMENT
Article continues below this ad
What did you make of Ngannou's performance at UFC 260? Let us know in the comments below!