'He Has Dr Pepper in His Blood'- Max Holloway Trolls Daniel Cormier With a Hilarious Story
Published 02/24/2021, 6:30 AM EST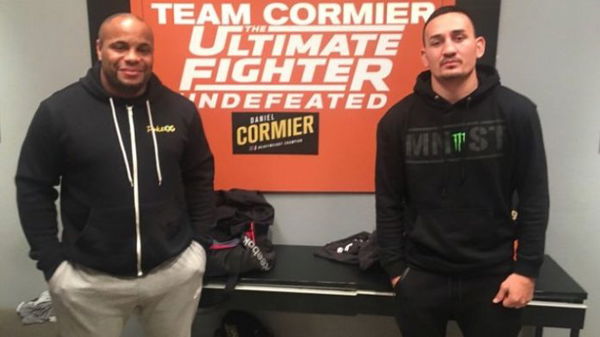 ---
---
In a sport like MMA where there can only be one champion in every division, fighters often stay away from making friends with other fighters as they could be asked to compete against each other at any point in time. 
ADVERTISEMENT
Article continues below this ad
There have also been multiple examples of friends turning into bitter rivals over time. Rashad Evans and Jon Jones and most recently Colby Covington and Jorge Masvidal are good examples. However, Daniel Cormier and Max Holloway are an exception to the notion that fighters can not be friends. 
ADVERTISEMENT
Article continues below this ad
Although they're miles apart in weight and would have never been put in a position where they might have had to fight each other, Max Holloway and Daniel Cormier have often given fans a pleasant laugh with their friendly back and forth. There is a great deal of respect between the two men, and 'Blessed' considers 'DC' his elder brother of sorts.
Read: Who are the highest-paid male and female athletes in the UFC?
Max Holloway clears the air about the recent screenshots
ADVERTISEMENT
Article continues below this ad
'DC' recently shared a screenshot of a conversation between him and Max about Dr Pepper, the beverage. 
In a recent interview, Ariel Helwani asked Max to explain the situation to the fans. 'Blessed' said,
"No inside joke, he's the guy that put me onto the good doc… The man has no blood in his body, it's all Dr Pepper….. When he was doing The Ultimate Fighter, he flew me out as a coach. And I was with him for a week or so…."
'Blessed' continued,
"We was driving back from the gym to the house, and I remember him just talking and I don't know how soda came up… he brings up Dr Pepper and I've never had one….
We're on the highway, he pulls off to go to the gas station he sends someone that is in the car with us to go run and grab it….. Man ever since that day it changed my life. He put me onto the good doc and we here now…. So I texted him, 24 baby, I got to taste that 24th flavor."
ADVERTISEMENT
Article continues below this ad
After his last performance, the former featherweight champion has once again established himself as the top dog at 145-pounds. A title shot is surely next for Max Holloway, as he will face the winner of the UFC 260 fight between Brian Ortega and Alexander Volkanovski.