Here's A Look At Gilbert Burns And His Rivalry With Kamaru Usman
Published 06/27/2021, 12:07 PM EDT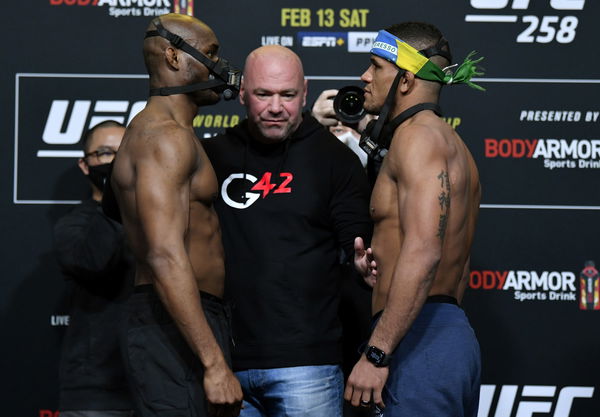 ---
---
UFC welterweight contender Gilbert Burns is gearing up for his fight against Stephen Thompson in the co-main event at UFC 264. The Brazilian will look to come back stronger after suffering a demoralizing title fight loss against Kamaru Usman at UFC 258.
ADVERTISEMENT
Article continues below this ad
That loss also brought an end to his 6 fight winning streak. But that was not just a fight between two opponents. It was a brawl between two former teammates striving to clinch the numero uno spot in the welterweight division.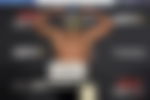 Although that fight is a memory now, there are full chances they could meet again in the future. Before that scenario takes place, let's have a look at the timeline of their rivalry, including how they met and what culminated into their ultimate face-off.
ADVERTISEMENT
Article continues below this ad
Gilbert Burns and Kamaru Usman- the beginning and split at the Blackzilians
Usman's mentor Rashad Evans moved to South Florida after leaving JacksonWink MMA in Albuquerque, New Mexico. Evans also brought Usman along with him.
The duo had met with the help of an acquaintance when Evans needed wrestling help while training for his 2010 bout with Quinton Jackson.
Happy birthday my brother @SugaRashadEvans I have and continue to learn so much from you not only as Man and Fighter, but also as a father. Thank you for being a role model and also a friend. I hope you've had a fantastic day today. Happy birthday my big homie 🙏🏿❤️ pic.twitter.com/vPLW5Td7hu

— KAMARU USMAN (@USMAN84kg) September 26, 2020
Usman (19-1) and Evans collaborated with late MMA agent Glenn Robinson to launch the Blackzilians team in Boca Raton, Florida. Burns then joined the team in 2012 along with his mentor, MMA legend Vitor Belfort.
Usman represented the Blackzilians team at 'The Ultimate Fighter' reality show in 2015. He won the tournament and joined UFC shortly where Burns was already on the roster.
In the succeeding years, the team went through many changes, and during this time some of the prominent members, like the head coach Henri Hooft, had a fallout with Robinson and many others including Usman. Although Burns sided with Hooft at that time.
Shortly, Usman headed towards the west coast. Although many thought it was because of the rise of Burns, the current welterweight champion thought otherwise.
"You're training with someone, and you're giving them a bunch of knowledge you have, and you're learning from them as well," the welterweight kingpin said at that time. "You're trying to help them build their career, but you're not thinking, 'Hey, maybe they're trying to take it from me. They're trying to take my career.
"It sucks that we're kind of put in that situation. But such is life."
Although not close friends, but both shared a cordial bond
It's not an unheard story that sparring partners or former teammates are fighting for the gold. Fighters such as Cody Garbrandt and TJ Dillashaw were teammates at Team Alpha Male before they sparred for the bantamweight gold. If we go further into history, Tito Ortiz and Chuck Liddle too fought twice in UFC.
But what separated both those fights from that of Burns vs Usman was that the former fights also had a history of bad blood between the competitors.
With Usman and Burns, there was no such bad blood and neither of them had anything bad about one another to say.
"I had so many fights in the Blackzilians (with Usman)," Burns said at that time. "It wasn't sparring, it was a fight."
"Our children were close because they are a month apart, my youngest son and his daughter," Burns' wife said. "So until the age of 3 to 4, they played a lot in the gym. Kamaru is a super dad, too. He always brought Samirah to the gym, so it was the place where they played.
"But outside of the gym, we were never that close," Burns continued.
Usman on his behalf said, "I liked him. I trained with him a little bit more than others because he could push me. He was a grappler. It was kind of a learning thing, too. He was learning from me.
"I was learning from him. In that sense, I trained with him a lot more."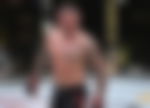 The final showdown- Burns vs Usman at UFC 258
"He's a strong guy." Burns said about facing Usman. "So I did a lot of work to surprise him because he never trained with me so much at this weight. (He) will feel a stronger 'Durinho,' physically speaking. With the same speed as before, but with greater physical power."
Usman too analyzed his opponent and said, "We know how it's gonna go. Of course, he's gotten a lot better. I would be playing myself if I said he hasn't improved over the years. And confidence is a hell of a drug as well."
Judgment day arrived for both welterweight elites. On Feb 13, 2021, 'The Nigerian Nightmare' and 'Durinho' battled it out to determine the kingpin of the division.
Burns came out, all guns blazing. He started with some heavy striking that put Usman immediately on the back foot. Somehow Usman weathered the early storm but clearly came second in the first round.
In the second round though, the champ came back soaring into the game. He connected with a jackhammer of a jab that ruffled Burns feathers. The jab was so devastating that 'Durinho' hardly did anything after the impact. Usman played the waiting game and took the match to the third round.
The curtains fell down for Burns in the third round. The clock turned to 34 seconds and Usman, like a phoenix rising from the ashes, connected with a devastating right followed by ground and pound to seal the deal.
ADVERTISEMENT
Article continues below this ad
The loss was a devastating one, as Gilbert Burns could not control his emotions. Both of them embraced in the end to cap off their rivalry. A rivalry that started with a sparring session in the gym and ended with a brawl in the octagon.
What did you make of their history? Let us know.
ADVERTISEMENT
Article continues below this ad
WATCH THIS STORY: 5 interesting facts about UFC you didn't know about