'He's Going for 'Coach of the Year'- Luke Rockhold Shares Surprise News on Khabib Nurmagomedov
Published 03/23/2021, 5:30 AM EDT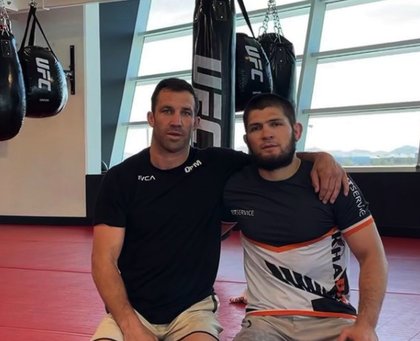 ---
---
After retiring from the sport, Khabib Nurmagomedov has transitioned perfectly into his new role. 'The Eagle' has assumed the role of coach for his relatives and friends who compete not only in the UFC, but also in various other MMA organizations. 
ADVERTISEMENT
Article continues below this ad
Most recently, he was seen cornering Islam Makhachev as he secured an impressive win over Drew Dober at UFC 259. Islam happens to be one of many talented fighters who Khabib aims to guide to the top.
Now, it appears a former teammate wants 'The Eagle' to corner him for his comeback fight. The former teammate happens to be Luke Rockhold, who is one of the many champions American Kick Boxing Academy has produced. However, he has now been training in different gyms across the country to improve his skill set. 
ADVERTISEMENT
Article continues below this ad
Read: Ben Askren 'doesn't really care' about MMA fighters like Jorge Masvidal supporting Jake Paul 
Coach Khabib Nurmagomedov set to corner Luke Rockhold for his comeback fight 
In a recent interview with TMZ Sports, Rockhold spoke about the former UFC lightweight champion cornering him in his next fight. 
He said,
"He's assuming this coaching role now… He's going off on me, wanting to coach me. He wants to be a big part of my comeback, so it's pretty funny to see Khabib assume this role. He's going for 'Coach of the Year.' That's what he wants. He wants to be the next great thing, follow in his dad's footsteps. That's what his dad always did. His dad was always insightful and always had a good eye for the sport, and I think Khabib is ready to assume that role" (transcribed by TMZ Sports)
Rockhold continued,
"Of course he can be a good coach. It's like, sometimes you have to put yourself aside. Even if you know a lot, it's better to be guided, like a mindless training if you trust in your coach."
ADVERTISEMENT
Article continues below this ad
Rockhold's last outing was an unsuccessful attempt at jumping up a weight class. He succumbed to a knockout loss against Jan Blachowicz at UFC 239 and has been away from the octagon ever since. 
This time around, Luke wants to get back to the weight class where he dominated and tasted UFC gold. The former middleweight champion aims to return to action before the end of the year. 
ADVERTISEMENT
Article continues below this ad
Do you think Khabib Nurmagomedov will be as successful as a coach as he was a champion? Let us know in the comments below!