'Hope He Is Not Offended'- Michael Bisping Talks About Being Frustrated With Kevin Holland While Commentating
Published 04/05/2021, 12:09 PM EDT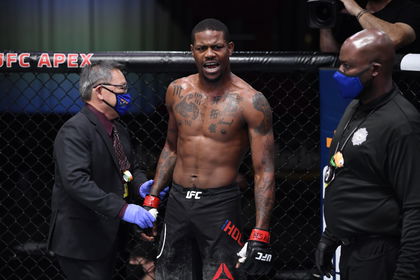 ---
---
Kevin Holland is a rising star in the UFC Middleweight division. However, the 2020 Fighter of the Year has not started 2021 well. Despite going 5-0 last year, Holland has opened his 2021 record with a loss against Derek Brunson. That fight is one of the oddest in recent memory, as Holland kept trash-talking Brunson, despite having been beat up.
ADVERTISEMENT
Article continues below this ad
Holland would talk to Brunson mid-fight, talk to Khabib Nurmagomedov in the corner, and make remarks towards the commentary team. While nothing was rude or out of line, the commentators and especially Michael Bisping had a seemingly thin amount of patience for the fighter. Bisping felt he was too harsh on Holland and hopes he hasn't offended the rising 185er.
ADVERTISEMENT
Article continues below this ad
"Saturday night we saw Kevin Holland. Kevin Holland got beaten and there were many theatrics and messing around and stuff. When he watches that back, I hope that he is not offended by anything I said because I was frustrated watching that fight. But only because he is so talented and so good.
"I felt like there was something missing and I was trying to get it across to the audience. Because I got to call it like I see it. I can't sugarcoat it. I wasn't saying anything to be nasty, I was saying it from my standpoint."
Kevin Holland: Does he need a new approach?
ADVERTISEMENT
Article continues below this ad
Kevin Holland and what he did in his last fight won't be popular. While Khabib seemed to enjoy its cage-side, many purists have taken issue with his showboating. It is one thing to trash talk while one is beating their opponent.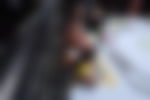 However, Holland was, more often than not, on the defensive and still talking back to Brunson from off his back. Whether this was a strategy to make Brunson drop his guard and then pounce is unknown. It evidently did not work, as Holland went on to lose the fight via unanimous decision.
ADVERTISEMENT
Article continues below this ad
It is nice to see Bisping take ownership of what he said about Holland mid-fight. While it may have not come from a place of bias, Bisping feeling the need to address his commentary in that situation is a very good thing to see. Hopefully, Holland can appreciate it as well and prepare well for his next bout.