How Many Tattoos Does Stipe Miocic Have and What Are Their Meanings?
Published 03/25/2021, 11:58 AM EDT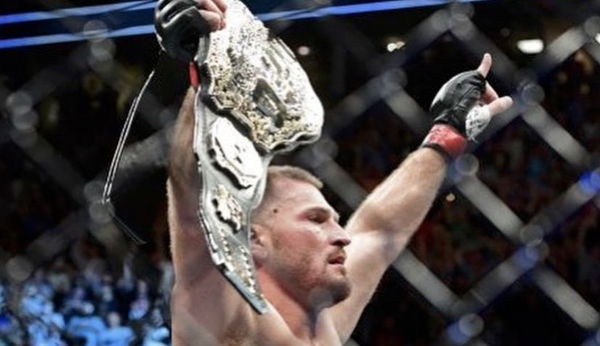 ---
---
Often considered by many as the greatest mixed martial artist of all time, Stipe Miocic is a ring fighter as well as a firefighter.
ADVERTISEMENT
Article continues below this ad
As diverse and destructive as his combat skills are in the ring, he is also known for his humble life outside of it, as he is often involved in charity events. He is currently the reigning two time UFC Heavyweight champion.
He has some other interests too, like inking his body with tattoos. Let's have a look at his different tattoos.
ADVERTISEMENT
Article continues below this ad
The famous back tattoo of Stipe Miocic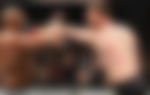 What does it mean?
This tattoo, in Chinese script, translates to "spirit of the white horse." White horses are generally considered as a symbol of wisdom, and Miocic got it done in order to signify himself as strong and passionate.
He later explained the tattoo as "Strong, style, fight, family, and passion." It is important to note here that Miocic is the reigning defending undisputed UFC HW champion, and the tattoo just suits him perfectly.
The Family Crest

What does it mean
On August 14 2015, Miocic reveals this tattoo in his Facebook page. He described it as "My Family Crest." According to Miocic, it symbolizes near and dear ones and mostly the ones who have passed away.
The tattoo in general is a bit complex in structure. It consists of a shield with dragon depicted with crest topped and dragons all over them. Miocic is always proud of his Croatian roots.
He has inked this on back side of his right leg.
Croatian Coat Of Arms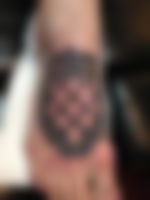 His tattoo can be seen here
What does it mean
ADVERTISEMENT
Article continues below this ad
Miocic has embedded this tattoo at the upper side of his right foot. This is "Croatian coat of arms" to honor the Croatian heritage, which he proudly inherits.
The coat belongs to The Republic of Croatia, comprising of one main shield while 5 smaller shields form a crown like structure over it.
Miocic has shown it in black and white whereas in original one there are 13 red and 12 white colored fields embedded in it.
ADVERTISEMENT
Article continues below this ad
Though he was born in Cleveland, Ohio, Miocic always considers himself as equally Croatian. He got this tattoo on January 16 2016 and it is done by Ajmoo Harvatska.
As fascinating his fighting skills are, the same goes for the choice of his tattoos. That's why he is admired by his fans, as no matter how big a fighter he has become, he still keeps his roots intact.