'I Didn't Have a Choice' – Francis Ngannou on Why He did not Become a Boxer Early in His Career
Published 02/20/2021, 10:00 AM EST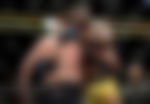 ---
---
UFC Heavyweight Francis Ngannou appeared on the Joe Rogan Experience ahead of his fight against Stipe Miocic for the Heavyweight championship. The fight will take place at UFC 260 on March 27, 2021, at the UFC Apex facility in Las Vegas.
ADVERTISEMENT
Article continues below this ad
Joe Rogan, who's a prominent member of MMA media, asked Ngannou why he transitioned to MMA and not boxing. "It's not like a transition. I didn't have a choice. I was doing MMA because when I went in France, I was, I didn't have, uh, paper, so, I was illegal, so I couldn't work," Francis said.
ADVERTISEMENT
Article continues below this ad
'The Predator' also spoke about his desire to make it in the sporting world. "I wanted so bad to do sport, and I was doing boxing and MMA, but MMA was the one that was more open and giving me opportunities. Having a UFC contract as an MMA fighter was a big deal."
He talked about the difficulties newcomers face when they enter the sport of boxing, saying, "Boxing is kind of like a very complicated business. You have to know somebody. They have to line you up, very complicated. MMA was just easy. You knock people out. They be like who is that guy, we want that guy. It was pretty easy MMA wise," Francis concluded.
Francis Ngannou vs. Stipe Miocic: The first fight
'The Predator' fought the Miocic for the first time in 2018 at UFC  220. It was an extremely technical performance from Stipe, who was yet to fight Daniel Cormier to start his epic trilogy with him. Stipe won all five rounds and even had a round scored 10-8 by all three judges in the unanimous decision win.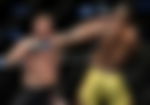 He went to fight Daniel Cormier thrice, beating him the last two times, and is now the world's heavyweight champion. Francis Ngannou must have been waiting for this moment for a long time, so count him out at your own peril. He's one of the most dangerous fighters in the world and has been unstoppable in his last four fights.
ADVERTISEMENT
Article continues below this ad
If Ngannou gets his way, this will be a quick and explosive fight. Don't blink, or else you will miss it.
Do you think Ngannou has what it takes to win the belt?
ADVERTISEMENT
Article continues below this ad