'I Want to Choke Somebody'- Israel Adesanya Wants Opponents To Do More
Published 12/08/2020, 9:57 AM EST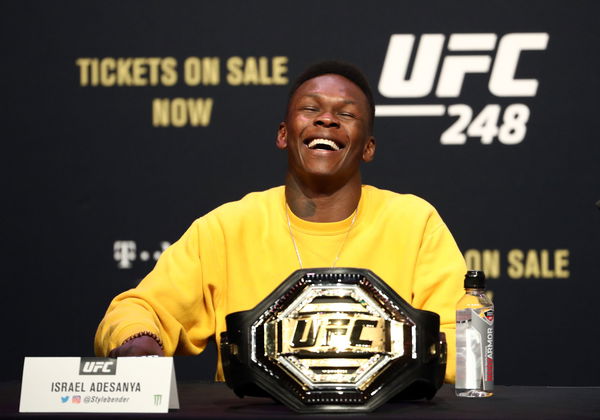 ---
---
Israel Adesanya is the UFC Middleweight Champion. We have seen him get there by being an electric striker that can out-point anyone to win a fight. However, Izzy has a rounded skill-set. This is something he knows and constantly works upon. He just received a purple belt in Brazilian Jiu-Jitsu, exemplifying his dedication at getting better.
ADVERTISEMENT
Article continues below this ad
ADVERTISEMENT
Article continues below this ad
But how do you show off your BJJ when you have a career 86% takedown defense? This is a frustration that Adesanya has spoken about, asking opponents to take him down more often. That is the normal idea you'd have with a striker like Izzy, but his takedown defense makes it hard. He spoke about this to MMA Fighting.
"I hope they start shooting on me more cause I want to choke somebody out. I mean people were shooting on me at the beginning of my UFC career, and then they realized, 'We can't be doing that, f**k it let's strike, oh we can't do that either.'
Izzy added, "They should go back to shooting on me again, cause I've got some tricks that I want to use."
Israel Adesanya and his evolving skill-set
ADVERTISEMENT
Article continues below this ad
Israel Adesanya made his way into the sport of MMA with a rich history as a kickboxer. While he did prove to be fallible as a kickboxer, he was still dominant. Outside one loss as a kickboxer, Adesanya has managed to go undefeated his entire career as a fighter.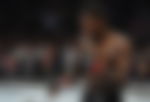 In terms of showing off his BJJ, Izzy did come close once. In round 5 against Kelvin Gastelum in their interim Middleweight clash in 2019, Izzy found himself in a position to try to get Gastelum to tap out. However, that was a crazy fight and Kelvin was completely drenched in sweat. Izzy couldn't lock in that hold, but won the round decisively to get the decision in his favor to start his title reign.
ADVERTISEMENT
Article continues below this ad
Jan Blachowicz won't necessarily try to take Izzy down, but you never know. The new skills may be on display sooner than anyone realizes.