'I Will Definitely Fight Again This Year' – Jorge Masvidal
Published 04/27/2021, 9:59 AM EDT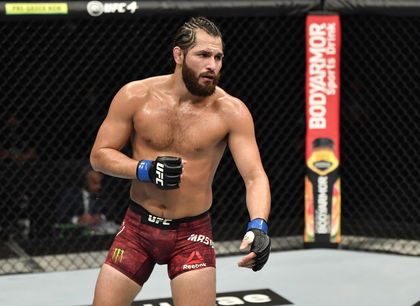 ---
---
On Saturday, UFC veteran Jorge Masvidal suffered his most devastating loss at the hands of welterweight champ Kamaru Usman. Both headlined the UFC 261 event where Usman inflicted a KO over 'Gamebred'.
ADVERTISEMENT
Article continues below this ad
After this fight, the Nigerian's camp will be in relax mode, but the same can't be said about Masvidal. He will be itching to return to the octagon to find his lost glory after back-to-back losses.
ADVERTISEMENT
Article continues below this ad
Talking to ESPN MMA's Helwani, 'Gamebred' discussed his plans of fighting again this year. He said, "I will definitely fight again this year. I have to..I gotta fight this year." 
Masvidal is under suspension after his last fight and believes he cannot compete in more than one fight. "As it was, if it wasn't for the suspension in this knockout, I would have been fighting 3 to 4 times this year," he added.
'Gamebred' concluded by saying, "I still wanna compete it out this year but obviously circumstances..So I can at least get 1 fight this year (I) will have it. I can pull off 2 which is doubtful (but) that will be cool." 
What's next for Jorge Masvidal?
Masvidal had never lost via KO in UFC before. Thus, this loss to Usman must have jolted and damaged his confidence. Though a veteran like him would be knowing how to cope with this loss, for now at least, it has made him lose some steam. He would be eager to get back and pick up some victories.
If we look at some possible options, then there is one fight that could have answers for us, and him, in particular – Nate Diaz vs Leon Edwards. Both the fighters are set to lock horns at UFC 262 in mid-May.
Since Masvidal has a history with both of them, either of them could fight him next. Masvidal has already beaten Diaz at UFC 244, and the latter would be hoping to avenge his loss if they face off again.
ADVERTISEMENT
Article continues below this ad
As for Edwards, 'Gamebred' had a backstage scuffle against him after the latter won against Till. Thus, he will be hoping to get into a title fight if he picks up a victory against Diaz. If he losses, he can have a say in who will fight Masvidal next.
For now, Masvidal is under medical suspension. He is still a massive draw, and it will be interesting to see how UFC goes ahead once he is cleared to fight. Who do you want to see opposite Masvidal next?
ADVERTISEMENT
Article continues below this ad