'I Would Finish Him in the First Round'- Jorge Masvidal Says Kamaru Usman Wouldn't Have Lasted if Roles Were Reversed at UFC 251
Published 04/21/2021, 10:19 AM EDT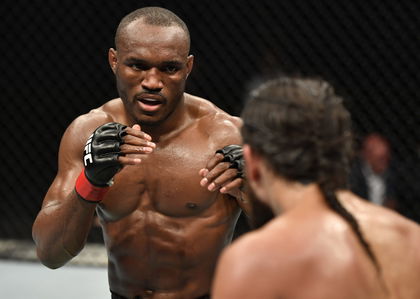 ---
---
Jorge Masvidal got his first UFC Welterweight Championship opportunity on six days' notice for UFC 251. He was dominated by current champion Kamaru Usman in a dull decision bout. However, Masvidal has had a full camp to prepare for this fight and seems excited about it.
ADVERTISEMENT
Article continues below this ad
Masvidal hasn't taken his loss at UFC 251 very hard due to the circumstances of him taking it on short notice. In fact, he believes he would have finished Usman in the first round if the latter was coming into the fight in Masvidal's situation.
Kamaru Usman won by decision and clinched Masvidal for the majority of their first bout.
ADVERTISEMENT
Article continues below this ad
"I'll tell you one thing, if Kamaru takes a fight against me on six days' notice and made a cut of 20 pounds, I would finish him in the first round. That's a great fighter. I don't go to decision and deep down, he knows that. That's why he was hugging me for dear life.
"Was I a great fighter that night? Nope. But will I be a great fighter on April 24th and show the difference between me and 'hug every man' Kamaru Usman? Yeah, I am going to show there is a difference between good and great."
Jorge Masvidal vs Kamaru Usman: What happened at UFC 251?
Jorge Masvidal stepped in to replace Gilbert Burns on six days' notice at UFC 251 after Burns tested positive for COVID-19. The fight took place in Abu Dhabi and was quite underwhelming. It is remembered for Usman's odd use of foot stomps to neutralize Masvidal.
ADVERTISEMENT
Article continues below this ad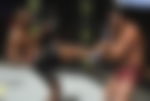 Many people criticized Usman's approach of clinch-wrestling an under-prepared Masvidal. That is what Jorge is referring to now, as many expected Usman to be more aggressive considering the hard cut that Masvidal had for the fight. But Usman proved his detractors wrong with a fantastic TKO finish of Burns when they finally got to fight earlier this year.
ADVERTISEMENT
Article continues below this ad
Masvidal was out-wrestled in an underwhelming fight and managed to retain his title shot. While this is a massive money-maker, many believe Masvidal shouldn't have gotten the fight. Despite all of that, we have our title matchup for UFC 261 and it will be an exciting rematch.