'It's the UFC's Business'- Francis Ngannou's Coach Finally Makes a Statement on Dana White's Decision
Published 07/02/2021, 2:30 AM EDT
---
---
The MMA community and UFC fans, in particular, received a confirmation of a rather interesting decision made by the UFC earlier this week. The promotion announced that it would schedule an interim title fight between Ciryl Gane and Derrick Lewis for August 8th at UFC 265. Both fans and pundits alike were shocked that champion Ngannou was snubbed as Dana White had mentioned multiple times that Francis Ngannou vs Derrick Lewis would be the next fight to make at heavyweight. 
ADVERTISEMENT
Article continues below this ad
In a recent interview with Mike Heck, Ngannou's head coach Eric Nicksick, weighed in on the situation and shared his thoughts on what had transpired. He said,
"Yeah, pretty much the same. You know Francis and I just got done training in the morning. We trained at 10 am. Then he went upstairs to shower in the gym and came down to the office. He said he got an E-Mail from the UFC about some of the contract negotiation stuff."
He continued, "Then helped him load up his car we did a few errands and stuff. And then I got a text from Luke Thomas and that was actually the first I heard of it. Luke was like, what? They're doing an interim? So it all came as a shock to all of us. But you know at the end of the day it is business. It's the UFC's business and we're just kinda here for the ride I guess."
ADVERTISEMENT
Article continues below this ad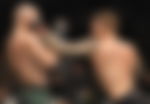 Was snubbing Francis Ngannou the right move by the UFC?
Reports suggest that the UFC wanted Ngannou to defend his belt in June or August. However, the champion had taken some well-deserved time off and was in his hometown visiting his family and his mother after realizing a lifelong dream. Therefore, it was not possible for the champion to fight in June or August.
Watch this story:- Top 5 Biggest Rivalries in the History of the UFC
ADVERTISEMENT
Article continues below this ad
However, Ngannou and his team made it clear to the UFC that they would be ready for a fight in September. As this was a bit too late for the promotion, the UFC went ahead with an interim title fight between Lewis and Gane. 
ADVERTISEMENT
Article continues below this ad
Although the move has not gone down well with the fans, it will only make Ngannou's first title defense a lot bigger. The possibility of facing a former training partner in Gane or a former rival in Lewis is a fight fans would love to get behind.