Jared Cannonier's UFC Losses: Who all have Defeated Jared Cannonier Inside the Octagon?
Published 08/14/2021, 10:32 AM EDT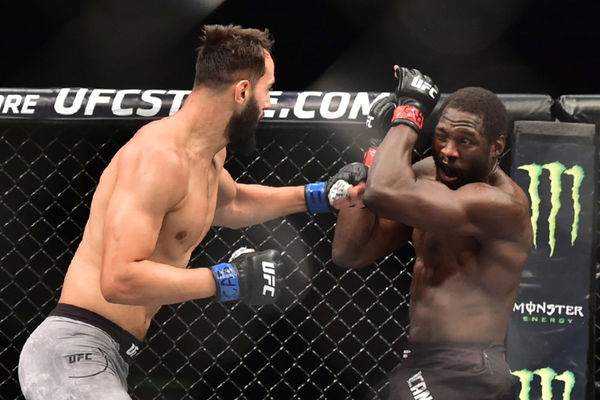 ---
---
UFC middleweight fighter Jared Cannonier is an elite fighter. The American is known for his extreme level of striking that has helped him secure many knockout victories throughout his career in UFC. The fighter, who earlier used to be 300 pounds super heavyweight, now enjoys his time in the division dominated by Israel Adesanya.
ADVERTISEMENT
Article continues below this ad
Prior to his stint with UFC, the American remained undefeated in the regional circuits. He started his journey with the largest MMA production house back in 2015. In the years following, he picked up some crucial wins but also had to endure many losses. Let's have a look at all the losses 'The Killa Gorilla' had to suffer.
Jared Cannonier vs Shawn Jordan- a reality check
ADVERTISEMENT
Article continues below this ad
Prior to joining UFC in 2014, Cannonier remained undefeated in his previous 7 matches. He joined UFC in October 2014 and debuted a few months later in January 2015 at UFC 182 against Shawn Jordan.
In the first round, after some initial stare-on, Jordon connected with a hook that seemed more like a casual throw than a knockout blow. But it glanced at Cannonier's skull just above his ear and he went down to the canvas.
From there onwards, it was all Jordan, as he wasted no time in pummeling Cannonier. He attacked Cannonier in the face with his ferocious hands. With Jordan showing no signs of slowing down the assault, the referee had no other but to wave off the match.
This was Cannonier's first loss as a professional and the pressure of performing in his debut clearly got to his head.
Teixeira digs deep to get a win
After the initial stutter, 'The Killa Gorilla' soon returned to winning ways as he picked up few wins before facing Glover Teixeira at UFC 208 in February 2017.
From the start of the fight, Teixeira attempted the takedowns. And he had little to no trouble while doing so. He snatched a single-leg against Cannonier initially, and planted Cannonier on his back, and went to work from the top, connected with some punches and short elbows.
Cannonier did his part, too. He did some assault work on Teixeira, but mostly when he got a chance on his feet. At several points, his punches gave Teixeira's head a check, and he also made his legs wobble after several piercing punches.
But the Brazilian never allowed Cannonier to stay on his feet for durations. He took him down and just wore him down. He battered the American with ground-and-pound that left him, pushed him to the back foot.
In the third, he ran out of gas as he couldn't counter Teixeira's ground game. In the end, he left it all to judges to give him a chance on his feet game, but clearly, they were in no mood. Texeira picked up a lopsided decision win.
The legendary Polish Power on display
Cannonier put his skills to the test against Polish powerhouse Jan Blachowicz at UFC on Fox 26. Both men started the fight sharply. Cannonier tried to move in and out of Blachowicz's range, somewhat teasing him. Despite Cannonier putting up efforts, Blachowicz's jabs were too powerful and found its target more often than not.
Blachowicz started the second round again with jabs, but this time, he also added in low kicks, as well. Cannonier landed several solid low kicks in response, even as he struggled to land much of anything with his hands. This round was all about Cannonier catching up with Blachowicz's power and ground game. After an eye poke, that halted the match a bit, Blachowicz continued his assault, won a takedown, and ended the round on top.
WATCH THIS STORY: Top 5 UFC fighters with highest significant strike accuracy
Realizing he needed a stoppage to win, Cannonier started aggressively. His hard punches did some damage to Blachowicz, but the Pole remained composed and brought his ground game to the fore. In the end, the judges favoured the man from Poland in a unanimous decision.
Jared Cannonier falls to Dominick Reyes
After picking up some wins, Cannonier fought Dominick Reyes at UFC Fight Night 129. Both men came out with all guns blazing. Reyes threw his trademark array of kicks to the legs and body of Cannonier. He then went for a single-leg takedown, but Cannonier defended it well and pummeled Reyes with hard shots to the side of his head.
A counter left uppercut from Reyes, brought an end to Cannonier's aggression and wobbled him. Reyes followed it up with some combinations before landing another quick left uppercut that brought Cannonier to the canvas. The ref intervened and stopped the match in the first round.
'The Reaper' gets it well against 'The Killa Gorilla'
At UFC 254, Cannonier fought former middleweight champion, Robert Whittaker. 'The Killa Gorilla' attacked the legs of Whittaker initially, causing a welt behind his left knee. 'The Reaper' started countering Cannonier with his right hand as Cannonier advanced. Whittaker upped his game to end the game on high.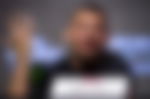 ADVERTISEMENT
Article continues below this ad
In the second round, Cannonier tried to do the same as he threw leg kicks, but Whittaker was up for it. He started landing a volume of strikes to stop the former. Whittaker even connected a short-lived takedown towards the end of the round as he found an opening.
The ending round saw Whittaker connected with an overhead kick that dazed his opponent. The American fought his way back to his feet and rallied. He pushed back Whittaker with an aggressive assault, but could not produce the finish and lost the fight via decision.
ADVERTISEMENT
Article continues below this ad
Although Jared Cannonier has incurred some losses, he has done well throughout his career. At the advanced age of 37, he has limited days to challenge for the gold. It will be interesting to see how he moves ahead in his career from here onwards.
What did you make of Cannonier's losses?