Joe Rogan Lauds 'The Hustler' TV Show Writer
Published 12/26/2020, 12:43 AM EST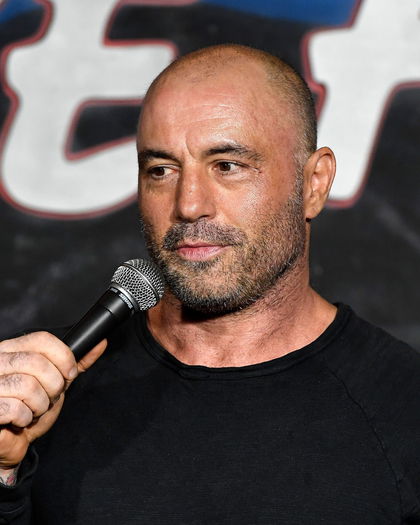 ---
---
Joe Rogan is one of the biggest names in MMA. The standup comedian has been with the UFC since the very beginning. Starting out as a presenter, Rogan moved to the desk as a commentator and soon established himself as a legend of the spoken word. Rogan has built a cult following among MMA fans through his illustrious body of work in the UFC. 
ADVERTISEMENT
Article continues below this ad
The American is active on social media and regularly shares his areas of interest with his legions of followers. These include the kind of movies he likes, or the kind of meat he prefers, or a book that he just read. 
Read: Joe Rogan says it's 'completely insane' what his podcast The Joe Rogan Experience has become  
ADVERTISEMENT
Article continues below this ad
Joe Rogan showers praise on Walter Tevis
Rogan recently shared his thoughts on a popular new Netflix series called 'The Queen's Gambit.'
The caption said, "The Queen's Gambit on @netflix is really good. Just finished episode 2. It's kind of amazing how good television shows are now. It used to be the movies were the really interesting, intelligent things to watch, and television was always kinda second rate"
"There were good shows, but they were never quite as good as films. Now, however, it's the opposite. These new streaming shows are like watching a great movie that goes on for 7 or more hours. Movies can still be great, but even great ones seem limited by the time constraints of a single film that has to wrap up in a few hours"
The show has received a lot of praise ever since its Netflix release, and Rogan is one of the many people who have found the show extremely interesting. 
In a recent post, Rogan took to Instagram to laud novelist Walter Tevis who has written books such as 'The Hustler' and 'The Queen's Gambit' among others. 
ADVERTISEMENT
Article continues below this ad
The caption for the post read, "This makes sense. The Hustler is one of my all time favorite movies, and the book is great too. "The Queen's Gambit" is my new favorite show and I just found out that Walter Tevis wrote the original story for that as well."
What do you make of the show 'The Queen's Gambit'? Let us know in the comments below!
ADVERTISEMENT
Article continues below this ad