Kamaru Usman Justin Gaethje and Other UFC Fighters Stunned as Petr Yan Gets Disqualified for an Illegal Knee at UFC 259
Published 03/07/2021, 12:13 AM EST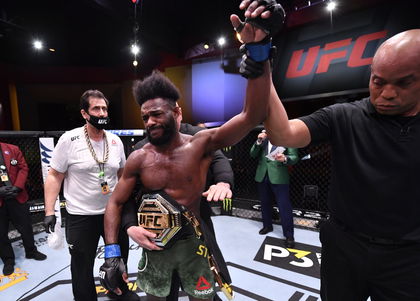 ---
---
UFC 259 is one of the very few times that the UFC has put three title fights on one card. To add to that, the entire card is stacked with some incredible bouts. Bantamweights Petr Yan and Aljamain Sterling kicked off the first of three title fights this evening. 
ADVERTISEMENT
Article continues below this ad
What started out as a cordial relationship between the two men has soured as time has gone on. Hence, the build-up to the fight has been intense with both men engaging in trash talk. 
Sterling started the fight well and arguably won the first round. However, as the fight went on, the champion, Petr Yan, came back stronger.
ADVERTISEMENT
Article continues below this ad
In the fourth round in a grappling exchange, Sterling had both his knees on the ground when 'No Mercy' kneed him in the face, which is an illegal shot. Since 'Funkmaster' could not recover from it, the fight was called and Sterling became the new champion at 135-pounds.
The commentary team later confirmed that Yan's corner gave him the go-ahead to use his knee. However, they were not sure as it was in Russian. If that is the case, Yan's corner cost him the fight as he was most certainly winning the fight up until that incident.
Read: UFC 259 results: third straight loss could mean retirement for Joseph Benavidez 
Twitter reacts as Aljamain Sterling beats Petr Yan for the bantamweight belt
Super Bowl XLIV champion Lance Moore took to Twitter to support 'Funkmaster'.
Former welterweight title contender. Stephen Thompson. took to Twitter to back Aljamain Sterling.
Cleveland Browns star, Myles Garrett, tweeted in excitement for the UFC fight.
Rob Tatum scored the first round for the champion Petr Yan.
What an awesome round. 10-9 Yan. Sterling started strong, but the champ came on late. #UFC259

— Rob Tatum (@RobTatum303) March 7, 2021
NFL superstar, Mark Ingram, took to Twitter to share good news with his fans.
My young king turned 3. Three @ufc title fights. Today is a good day. 😊

— Mark Ingram II (@markingram21) March 7, 2021
Theo Von commented on the close fight between Petr Yan and Aljamain Sterling.
Ryan Frederick had it even at one round apiece after two rounds.
Another close round. 10-9 Yan, 19-19 after two. #UFC259

— Ryan Frederick (@ryanjfrederick) March 7, 2021
Ariel Helwani believed Petr Yan was winning the fight at the end of round three.
Justin Gaethje had an interesting opinion on the stoppage.
This call should never be on the fighter. Plain and simple. With a shot like that it's over. Doc does his job walks in and it's over.

— Justin Gaethje 🇺🇸 (@Justin_Gaethje) March 7, 2021
NFL star Robert Griffin III agreed with the stoppage.
Brett Okamoto shared his thoughts on disqualification.
Belt changes hands. Aljamain Sterling wins the belt. Looks like he's confused and doesn't even really want it. Sucks all the way around.

— Brett Okamoto (@bokamotoESPN) March 7, 2021
ADVERTISEMENT
Article continues below this ad
Welterweight champion, Kamaru Usman, chimed in with his thoughts on the fight.
Ok that's too much 🤦🏿‍♂️

— KAMARU USMAN (@USMAN84kg) March 7, 2021
ADVERTISEMENT
Article continues below this ad
What did you make of the stoppage? Do you think the fight needs to be run back immediately?