Khabib Nurmagomedov Lends His Support To Gadzhi Rabadanov as Eagle FC Begins
Published 12/03/2020, 10:28 PM EST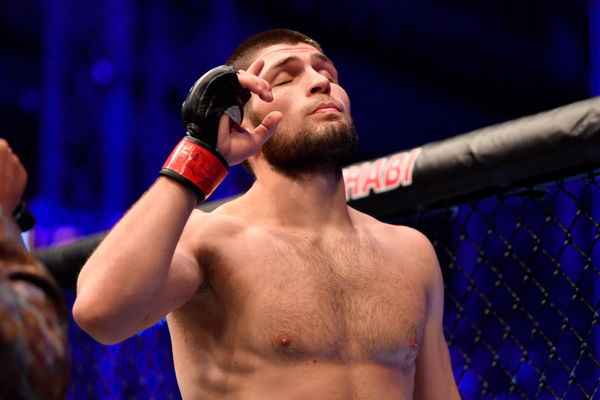 ---
---
Khabib Nurmagomedov is one of the most recognized athletes in the world. 'The Eagle' dominated the sport like no one else had before him. He retired a few months back as the undefeated, undisputed lightweight champion of the UFC with a record of 29-0. 
ADVERTISEMENT
Article continues below this ad
Since his retirement, 'The Eagle' has transitioned himself from a fighter to a businessman with business interests in multiple fields. . Nurmagomedov has entered into ventures as he prepares for the second chapter of his life after fighting. His aim is to build long-lasting businesses with a positive impact. 
He has dabbled in everything from protein bars, to telecommunications, and now has his own MMA promotion. The latter will have its first event this weekend. 
ADVERTISEMENT
Article continues below this ad
Read: Khabib Nurmagomedov says he will not make any changes in the rules of his MMA tournament 
Khabib Nurmagomedov wishes his teammate for his upcoming fight
Nurmagomedov took to Instagram to share a picture with Gadzhi Rabadanov. The caption read, "Good luck, Brother, in tomorrow's battle. A lot has been passed, it remains to be done beautifully." (Translated via Google translate)
Rabadanov is a lightweight fighter hailing from Dagestan who is currently on a six-fight win streak. This weekend he will take on Mehdi Dakaev a who is on an impressive win streak of his own.
Khabib Nurmagomedov is an excellent team leader and a role model for the fighters from Eagle's MMA. He has conducted himself brilliantly both inside and outside the octagon. Nurmagomedov is extremely helpful as a teammate and has a legion of fighters under him who he promotes using his platform. 
ADVERTISEMENT
Article continues below this ad
'The Eagle' recently bought Gorilla Fighting Championship, which he then rebranded as Eagle Fighting championship. 
In a recent press conference leading up to his first weekend as an MMA promoter, Khabib revealed his plans with the Eagle Fighting Championship. He said, "
I had this offer to Dana White. I wanted to make a contract with UFC Fight Pass, to broadcast EFC fights there, kind of like their contract with M1 but a bit different"
He continued, "I wanted to discuss the number of title defenses an EFC fighter needs to get into the UFC. When we sign fighters, we would like the organization to follow them into the UFC. For example, a guy signs for six fights, if he wins and defends his title a few times we'll get him a UFC contract. Then after he signs we'll handle his affairs. It's no secret everyone wants to get into the UFC. Other promotions want their fighters to stay. I don't want that, I want EFC to be a launchpad into the world stage."
ADVERTISEMENT
Article continues below this ad
It will be interesting to see if 'The Eagle' can replicate his success in the octagon as a businessman. Do you see Eagle Fighting Championships thriving?