Khabib Nurmagomedov Makes Fun of Conor McGregor by Comparing Him to a 'Child Trying to Avoid a Real Beating'
Published 12/27/2020, 6:06 AM EST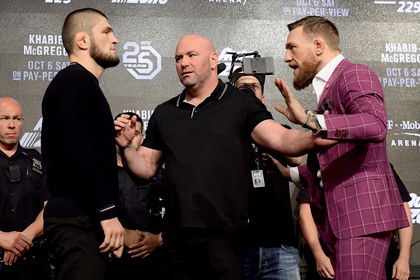 ---
---
Conor McGregor vs Khabib Nurmagomedov is perhaps the biggest rivalry the UFC has ever seen. The two men had been cordial to each other until an incident between McGregor's teammate Artem Lobov and Khabib Nurmagomedov and his camp. The infamous bus attack in Brooklyn then followed. 
ADVERTISEMENT
Article continues below this ad
Since that incident, the two men have not been able to see eye to eye. The rivalry culminated in an epic clash at UFC 229. Trash talk that crossed lines and involved family and religion certainly marred the build-up to the fight or did they? 
Khabib Nurmagomedov won the fight in a dominant performance and during the fight 'The Eagle' talked trash while beating up Conor McGregor. 
ADVERTISEMENT
Article continues below this ad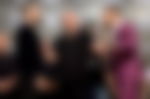 Khabib Nurmagomedov reveals what irked him about Conor McGregor and the trash talk 
During a press conference held in Russia earlier this month, 'The Eagle' was asked if all the trash talk leading up to the fight disappointed him.
He said, "Conor's trash talk? Yes, he had talked for a while (during the fight), but when I started pushing him, he immediately switched to the 'It's just business' mode. I was even a bit disappointed. I expected him to be mentally tougher."
ADVERTISEMENT
Article continues below this ad
The former champion continued, "When I was ground-and-pounding him, talking to him, and he responded that it was just business, it looked like he was trying to calm me down to avoid a real beating, just like a son trying to justify himself in front of his angry father. Psychology is a very strong tool"
What overshadowed a fantastic display by Khabib Nurmagomedov during the fight was what happened after the fight. Which marred the victory for the Dagestani powerhouse. 
A few years on, 'The Eagle' is retired and Conor now faces former rival, Dustin Poirier, next month. The winner of the fight might face Khabib Nurmagomedov once again should he wish to return to the sport for one last defense. 
ADVERTISEMENT
Article continues below this ad
Do you think 'The Eagle' will return for one last fight? And do you think we see a rematch between the two men? Let us know in the comments below!