Khabib Nurmagomedov vs Kamaru Usman: Can the Eagle Outshine the Nigerian Nightmare at Welterweight?
Published 02/15/2021, 12:30 PM EST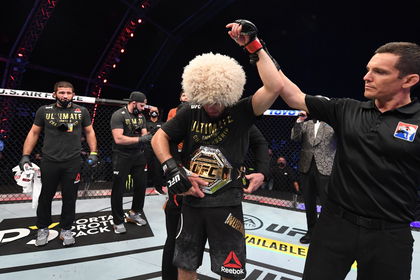 ---
---
Khabib Nurmagomedov has seemingly retired as an undefeated fighter with a 29-0 record. However, there are a lot of fighters that people still name to see n the Octagon against Khabib. But it seems some of the more tempting matchups may exist at Welterweight instead of Lightweight where Khabib did the damage across his career.
ADVERTISEMENT
Article continues below this ad
The most commonly requested name is Georges St-Pierre. However, that fight looks more and more unlikely. So, what about another Welterweight great in current champion Kamaru Usman? Even though Khabib is unwilling to move up and fight at 175, what would happen if Khabib and Usman were to meet at 175 in a fictitious world?
223 fighters in UFC history have spent at least 1 hour grappling.

Only 2 of the 223 have held control positions for over 97% of their grappling time:

Khabib Nurmagomedov – 97.40%
Kamaru Usman – 97.36%#UFC258 @AliAbdelaziz00 @USMAN84kg

— MMA By The Numbers (@NumbersMMA) February 9, 2021
ADVERTISEMENT
Article continues below this ad
Khabib is known to be heavier than what a normal 155-er would be, with many suggesting divisional changes for him when he was active. If he could bulk up and get the body of a genuine 175-pound fighter, could he still be the dominant force that he is?
Usman has a career record of 18-1, while Khabib sits at an undefeated 29-0.
Khabib Nurmagomedov vs Kamaru Usman: Could Welterweight be a different game?
Khabib Nurmagomedov and Kamaru Usman are two of the most elite grapplers in the UFC. However, Khabib does not have a conventional amateur wrestling or BJJ style, but he employs Sambo wrestling to do his damage. Usman is more of an amateur wrestler, but easily one of the best in the UFC.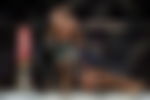 Khabib's sambo style means that he uses his physical advantages over smaller lightweights to control them on the ground. Khabib has only really struggled against fighters that were stronger than him, like Gleison Tibau. Usman would definitely be the stronger one against Khabib, which would neutralize Khabib's style.
ADVERTISEMENT
Article continues below this ad
However, Sambo wrestling is also about technique and brute strength isn't all that breaks it. However, Usman is one of the more skilled ground fighters in the UFC and he could genuinely give Khabib a lot of trouble there.
ADVERTISEMENT
Article continues below this ad
Both have average striking. While both have evident KO power, they use their strikes as cover for their wrestling. We have seen Usman fight more elite wrestlers than Khabib, so it would be interesting to see how a fight between the pair would pan out. But with Khabib's unwillingness to move up to fight anyone, it seems like this matchup may just remain a pipe-dream.