Luke Rockhold Comes Up With Bizarre Reason For Khabib Nurmagomedov's Retirement
Published 03/02/2021, 1:20 PM EST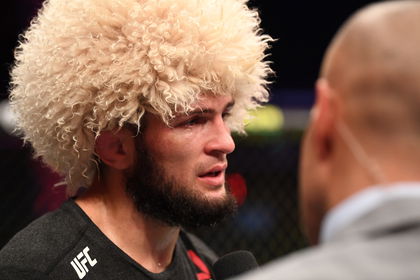 ---
---
Khabib Nurmagomedov, Daniel Cormier, Cain Velasquez, and Luke Rockhold were 4 UFC Champions produced by the same gym around the same time.
ADVERTISEMENT
Article continues below this ad
All the fighters were a part of the American Kickboxing Academy and held belts in the UFC. However, it seems like the time of the gym has passed, with 3 of the 4 champions looking to hang their gloves up for good.
Luke Rockhold was asked why he is the only active fighter from the golden age of AKA on Submission Radio. He had a very frank response and went into detail on Khabib's retirement. Mainly how it impacts Islam Makhachev's career.
ADVERTISEMENT
Article continues below this ad
"I'm single (laughs). Khabib has his family and Cain and DC, they're definitely older than me for sure. Khabib is kind of old in his ways and is kind of leaving a path for Islam and wants to give his best friend an opportunity to achieve his dreams.
"That's part of the process, it's always been. He's done it all and he's proved everything, so he wants to get that pass. He's made."
Khabib Nurmagomedov: Clearing the path for Makhachev?
Khabib Nurmagomedov may still be one of the few active champions from AKA. However, it seems like he would rather have someone else take that spot.
Makhachev and Khabib's relationship is well known. If there is any fighter that can be called Khabib's 'successor', it would be Makhachev.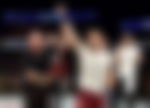 However, an immediate retirement from Khabib doesn't necessarily help Makhachev. Islam is down the rankings of the Lightweight division and is fighting Drew Dober this weekend. However, Dober isn't the kind of name you beat to get into title contention.
ADVERTISEMENT
Article continues below this ad
Khabib could have lived out his title reign and taken a step away after Islam rises to the championship level. However, it just wasn't to be.
While it must be great to see his teammate and close friend get the opportunity because he isn't crowding the division anymore, this wasn't what motivated his retirement.
His family ideals are too deeply rooted in him for him to not accede to his mother's wishes. However, letting Makhachev prosper is also a sign of how selfless Khabib can be for those around him.
ADVERTISEMENT
Article continues below this ad