Matheus Nicolau Believes Biased Commentary by Daniel Cormier Swayed Fans Perception
Published 03/16/2021, 6:55 AM EDT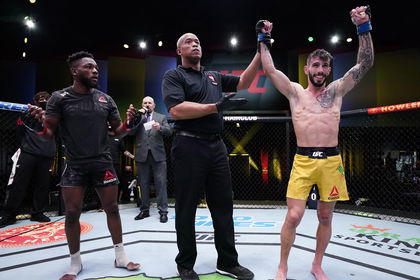 ---
---
Judging in the UFC has been been a topic of controversy for a very long time now. Fighters often say that they don't want to leave the scoring in the hands of the judges as there is no guarantee of a victory even after a dominating performance. The past weekend the same was the case when Matheus Nicolau took on Manel Kape. Although Nicolau secured the win, many believed that Kape deserved to win the fight.
ADVERTISEMENT
Article continues below this ad
Two of the three judges scored round one and three for Nicolau. So when the result was announced, Kape was in disbelief. Fans on social media have been relentless with the 'robbery' claims and have flooded Nicolau's social media with the same. 
Read: Michael Chandler's next fight almost set- details yet to be finalized
ADVERTISEMENT
Article continues below this ad
Matheus Nicolau details the reason why fans felt it was a 'robbery'
In a recent interview, Nicolau spoke about his win. He said that he re-watched the fight multiple times, and at no point did he feel like his victory was unwarranted. Further, he reiterated that he deserved to win, 29-28.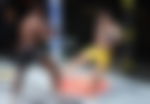 He said, "The third round, if you watch it, I beat him for four minutes and he landed two good knees in the end of the round, and I took them well, and then I landed a spinning elbow. Watching the third round all five times, it's pretty clear I won, man. He wasn't landing anything, I was landing, in and out, scoring well and hurting him.
"I kicked his leg, and he went down, I landed several punches to the body, many crosses to the head." 
Nicolau felt that the reason fans believed Kape was robbed was because of the biased commentary from Daniel Cormier. 
He continued, "DC' is from his team, and it seemed clear to me that he was kind of in his favor, rooting for him. Man, I beat him for four minutes. They said that during the commentary, 'Matheus is landing, he came better in round three,' and then, with a minute left, they start saying the fight is wide open. It makes no sense based on their own commentary, I think it was a little contradictory."
ADVERTISEMENT
Article continues below this ad
Javier Mendez, who happens to be Daniel Cormier's head coach as well, cornered Kape. Therefore, the Brazilian fighter believes that a bias from Cormier's side led him to view the fight in favor of Kape. And due to the biased commentary, fans also believed that Kape was robbed. 
ADVERTISEMENT
Article continues below this ad
What did you make of the fight? Do you think Kape was robbed? Let us know in the comments below!