Michael Bisping Comments On What Needs To Be Done To Reduce Eyepokes in the UFC
Published 03/27/2021, 1:00 PM EDT
---
---
Michael Bisping is a fighter that paid a big price of eye injuries inside the Octagon. While his eye injuries weren't the result of eye pokes, he does know how important it is to keep your eyes safe inside combat. As a result, it hasn't been easy to see the recent rise in eye pokes in fights. Bisping commented on what can be done to reduce this problem.
ADVERTISEMENT
Article continues below this ad
"All the referees had a meeting tonight and they're coming down way harder on fouls. But one thing they can do is the gloves. I think the gloves just need a different design."
ADVERTISEMENT
Article continues below this ad
Bisping elaborated on how he believes a glove design restricting finger movement may be beneficial to everyone. Along with that, he spoke about the impact that eye pokes had on the controversial Leon Edwards vs Belal Muhammad fight.
"Eyes pokes do hurt, but there's more to it. I mean, look at Belal Muhammad and Leon Edwards. Massive fight, lot of work, lot of sacrifice, lot of time away from family. Leon has flown across the country. All right, you might not feel sorry about the poker. But the pokey, Belal has flown down from Chicago, massive opportunity, and it's taken away. It hurts, it hurts badly. Fortunately, he was okay, but something bad could happen."
Michael Bisping: The perfect man to speak about the protection of eyes?
ADVERTISEMENT
Article continues below this ad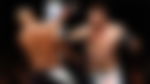 Michael Bisping fought the majority of his prime with no vision in his right eye. He fell into this predicament after his fight with Vitor Belfort, during his infamous 'TRT Belfort' days. He was using testosterone replacement therapy and was a dangerous competitor as a result. Nobody knows that better than Bisping.
Despite having one eye, Bisping made it through medicals and be cleared to fight. He ended his career in 2018 after a bout with Kelvin Gastelum that ended early in the first round.
ADVERTISEMENT
Article continues below this ad
We have seen instances of fighters like Rumble Johnson getting their eye gouged out. Along with that, the Heavyweight trilogy between Stipe Miocic and Daniel Cormier was littered with eye pokes. Eye safety is crucial in MMA. Something needs to be done, and Bisping has sound advice.