'My Fault'- Derrick Lewis Takes Ownership of Disappointing First Fight Against Francis Ngannou
Published 04/28/2021, 11:15 AM EDT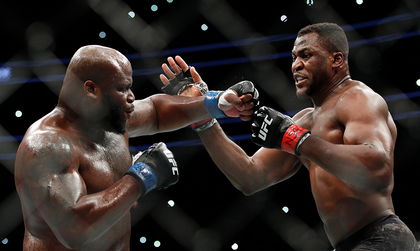 ---
---
Francis Ngannou and Derrick Lewis are two knockout machines. A fight between the pair would definitely be one of the most exciting striking encounters of all time. Or so people thought ahead of their meeting at UFC 226. Ngannou was coming off a loss to Stipe Miocic and looked gun-shy, while Lewis looked out of shape in a dull three-round affair.
ADVERTISEMENT
Article continues below this ad
But the pair are scheduled to rematch over the UFC title soon. Both have improved a lot in the last five years, and a different fight awaits us. But the first one did happen, and Lewis takes full ownership for the lackluster performance.
ADVERTISEMENT
Article continues below this ad
"It's going to be a fun fight. We've both learned a lot and improved since that fight. So it's gonna have to be a fun fight, it's too many rounds to be involved in. It's gonna be five rounds, so it's not going to be a five-round snooze fest, it's going to be five rounds of swinging and banging. It's going to be interesting to see."
Lewis then took full blame for the boring first fight and said, "I blame myself. It wasn't his fault, I wasn't going to sit up here and blame him. I'm going to say it was my fault, mostly. I came in a fight with half-ass training and didn't take care of my body the way I was supposed to."
Francis Ngannou vs Derrick Lewis II: How will this play out?
ADVERTISEMENT
Article continues below this ad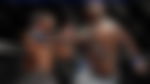 While people would rather see Francis Ngannou vs Jon Jones, that doesn't look likely right now. However, Lewis is not an unworthy contender. Curtis Blaydes was being pegged by many for an outside shot to face Jon Jones or even Stipe Miocic when Miocic was champion. But Lewis demolished him in their fight to take his spot atop the rankings.
ADVERTISEMENT
Article continues below this ad
Ngannou has become more technical while Lewis has been working on his cardio. But at the end of the day, it comes down to one landing and knocking the other out. Ngannou won't be afraid of throwing down this time around and Lewis will be looking to put more work into his body, so an exciting fight looks likely whenever they meet up.