'No Sense Arguing With People' – Miranda Maverick Hits Out At Fans For Body Shaming
Published 04/01/2021, 9:23 AM EDT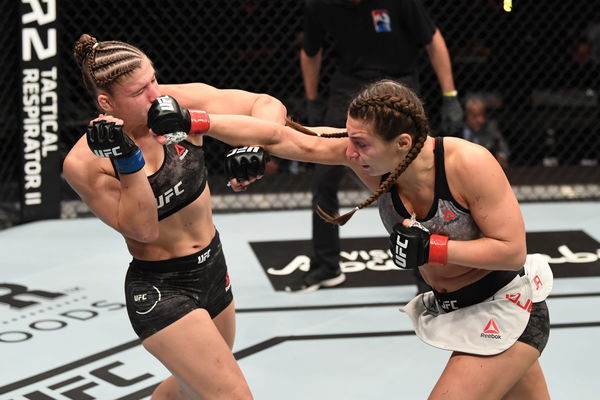 Miranda Maverick is one of the best upcoming wrestlers in the UFC- the 23-year-old competes in the Flyweight division. The young fighter has always been confident and knows how to carry herself.
ADVERTISEMENT
Article continues below this ad
Now the fighter has taken to Instagram, to talk to fans and call out people who resort to many sorts of trolling, including body shaming.
What did Miranda Maverick say on Instagram?
ADVERTISEMENT
Article continues below this ad
Miranda talked about how people try to troll her for her muscles and call her a dude. She also talked about how they call out a woman, even for being a professional fighter.
"I know for myself I'm trolled a lot. Always have been. I have muscles, I'm a dude. Win a fight, must be a man. Don't fit feminine stereotypes, obviously I'm a male. Not coated in makeup every pic, eww."
 

View this post on Instagram

 
Maverick talked about how sometimes these trolls get to her, although she knows whether the things said are good or not and if she needs to take them seriously. She just knows what she was born to do, and her concentration is always towards that.
"Dark truth: that crap gets to me sometimes. Reality: I was built to do what I do. The comments you make, good or bad, are just helping my algorithm."
The post that Maverick put out there shows us just a fraction of the negativity these fighters have to deal with. Maverick, however, gave a fitting reply to all these fans who tried to troll her and her boyfriend.
"Newsflash:I have a loving boyfriend who's better looking than all you punks commenting vile shit. You're probably too much of losers to ever get a girl playing keyboard warrior for some sick way of feeding their own insecurities."
"I have amazing genetics, and I'm proud to have the muscle mass I do. If you think it's ugly, quit looking at it."
What Next For Maverick
Maverick competed at UFC 260, where she faced Gillian Robertson, Maverick won the fight via decision.
After Maverick talked about what her next aim is and what she wants to achieve in the UFC. Maverick talked about how the endgame for all flyweights is Valentina Shevchenko, the UFC Flyweight champion.
ADVERTISEMENT
Article continues below this ad
But Maverick knows it would take at least 2 years before she can face the champ, but is ready to face the other sister first.
Maverick is a great in ring performer, but her reply to her trolls makes us believe she is as much a fighter outside the Octagon.
In today's day and age social media saturates our world, from the TV in the living room, our phone in our hand, to the computer at work, we are surrounded by social media.
ADVERTISEMENT
Article continues below this ad
Maverick is one of the many fighters that are trolled daily. People who don't understand the level of hard work these fighters put in also comment on their life.
In this online age, we see many people being subjected to online trolling and seeing a celebrity like Maverick talk about it and deal with it helps many people in doing the same.