T.J. Dillashaw Pays Homage To Nate Diaz With Wacky 'Pocketful of Cash' Quote After Comeback Win Over Cory Sandhagen at UFC Vegas 32
Published 07/25/2021, 2:16 PM EDT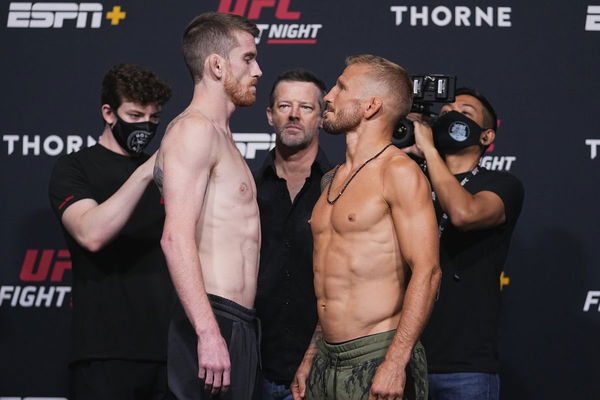 ---
---
Former 2-time UFC bantamweight champion T.J. Dillashaw picked up a hard-fought win over title contender Cory Sandhagen in the main event of UFC Vegas 32. The American was making a comeback after serving two years of ban on the charges of consuming prohibited substances.
ADVERTISEMENT
Article continues below this ad
As far as the match goes, it was Sandhagen all over him initially. The 'Sandman' exhibited a striking show to put every ounce of pressure on Dillashaw. Though the latter used his striking capabilities, he was lacking in front of a spirited Sandhagen.
ADVERTISEMENT
Article continues below this ad
In order to get things under his control, Dillashaw used his clinch and canvas grind game to slow down the momentum of Sandhagen. He worked his way through the match even though he was reeling with a devastating cut dealt by the 'Sandman' on him.
As a result, the judges narrowly edged him over Sandhagen and made his title-clinching path a little easier. Although the win became a topic of discussion after many MMA fanatics claimed it was Sandhagen who deserved to win. But if we keep everything else aside, it was difficult to make a return and win even for a man considered as one of the greats.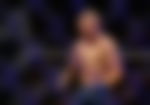 In the post-fight interview, Dillashaw answered a reporter who asked his game plan to tackle Sandhagen. The latter in response paid homage to veteran Nate Diaz and said, "I would like to quote the great Nate Diaz here, 'Get in there, hit him with some good sh*t, do not get hit, and come home a pocketful of cash.'"
T.J. Dillashaw on tackling Sandhagen
Dillashaw (17-4) is one of the all-time greats. His return was never in question, but his opponent was a tricky customer. Sandhagen had the height to his advantage, along with reach. So it was imperative for Dillashaw to come up with a game plan to tackle the 'Sandman'.
"You know, Cory isn't much of a counter fighter," Dillashaw added. "He's not like a guy who's going to counter you. Once you get him on his bike, he starts back-pedaling, and then you can do what you want with him."
ADVERTISEMENT
Article continues below this ad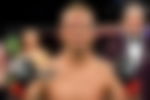 "Chop his legs up, take him down, but I couldn't use that as much as I wanted to. I was able to do it in the first round but I got lazy and hurt my knee so it took a lot of my game plan out of the window," Dillashaw concluded.
WATCH THIS STORY: 5 unknown facts about UFC president Dana White
ADVERTISEMENT
Article continues below this ad
With this win, Dillashaw has put his name in the mix for the title challenge. He will have a close watch on the Sterling vs Yan 2 fight and could either fight for the title or face a title eliminator next. It's up and up for him from here.
What did you make of Dillashaw's comments? Let us know.