'Talk About the Oscars'- Aljamain Sterling Lashes Out at UFC Fans' Recent Comments After UFC 259
Published 03/08/2021, 9:13 PM EST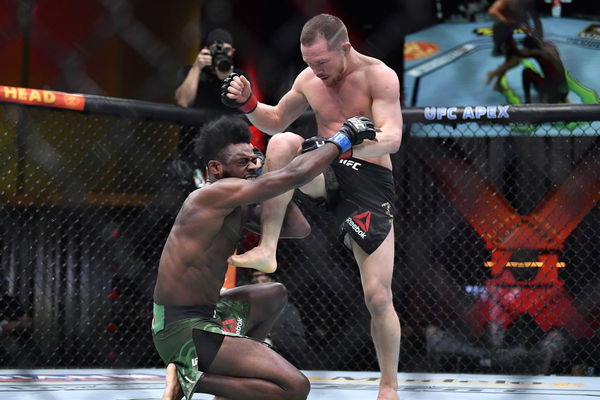 ---
---
UFC 259 was stacked with some incredible fights. In a rare sight, the UFC put three title fights on the same night. To top it off, the rest of the card was filled with some brilliant fights and performances. However, the bantamweight title fight marred the event because of the way it played out. The champion Petr Yan was disqualified for an illegal knee against the challenger, Aljamain Sterling. 
ADVERTISEMENT
Article continues below this ad
The impact of the knee was such that Sterling found it hard to stand on his own two feet without support. As a result, the fight was called off. However, since the fight ended, Sterling has been receiving a lot of criticism from fighters and fans alike for taking 'the easy way out' 
Read: 'Help him retire'- Islam Makhachev wants dream fight against Tony Ferguson 
ADVERTISEMENT
Article continues below this ad
Aljamain Sterling hits back at the haters and critics for saying he was acting
On a recent episode of his podcast, 'The Weekly Scraps Podcast', 'Funkmaster' released his statement following the win. 
He said, "It's not the way I wanted to win. Just so you guys know: I don't feel like I am the champ because I obviously didn't win this the way I wanted to win it. But rules are in place for a reason. It's mind-boggling to me that a guy like Yan can get to his caliber, the highest of the highs to become a champion, and still make mistakes like that"
ADVERTISEMENT
Article continues below this ad
'Funkmaster' continued, "I fought my a** off the entire time, and I was not going to quit in that fight. I was going to take my licking or find a way to persevere or find a way to win like a man because that's just what I do. I don't have that quit in me. There's no quit button whenever I'm in there. You guys might find it easy and talk about the Oscars and everything. You guys are the actors, and it might be a reflection of your own spirits."
The rules state that an opponent is considered a 'downed opponent' if he has anything more than the soles of his feet touching the ground.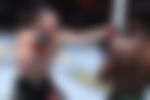 In Aljamain's case, he had his right knee touching the ground, which makes him a downed opponent. Had he continued, he would have most likely been finished by Yan in a vicious manner, as he was already compromised. 
ADVERTISEMENT
Article continues below this ad