The Top 10 UFC Fights of 2020
Published 12/14/2020, 9:08 AM EST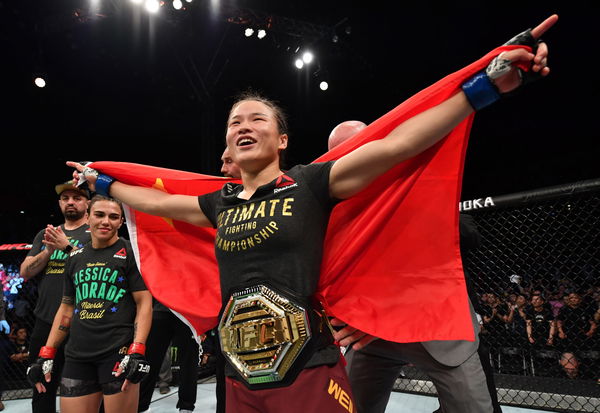 ---
---
The UFC has done the unthinkable in 2020. In a year where sports across the world faced long periods of shutdowns, Dana White and the UFC managed to push through a pandemic and put on fights.
ADVERTISEMENT
Article continues below this ad
We saw some iconic clashes this year, before the pandemic as well as after it. Evidently, the fighting spirit in a person is the last thing that is killed.
We have had some iconic clashes this year which may be considered to feature in the pantheon for the greatest fights in history. Along with that, we have had some clashes which may be forgotten over time, but not for now.
ADVERTISEMENT
Article continues below this ad
Every fighter on this list, regardless of a win, loss, or draw, gave up something to put on an iconic fight. So let's take a look at the 10 best UFC fights of this year 2020.
10. UFC 252: Stipe Miocic vs Daniel Cormier III
One can argue whether this fight should make the cut over some other barn-burners this year. This includes Song Yadong vs Marlon Vera, Robert Whittaker vs Darren Till, and many others. But the magnitude of this fight was quite unmatched.
The winner would take all the marbles in the race for the UFC G.O.A.T. of the Heavyweight division. This trilogy made Daniel Cormier push his retirement. While it was worth it for the fans, it may not have been worth it for DC himself.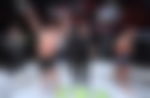 In the final chapter of a rivalry that defines the careers of both men and the division as a whole, Stipe Miocic out-boxed Cormier over 5 rounds to win the fight on the scorecards.
It was a technical boxing brawl right from the get-go, offering us a lot of highlights. This included Miocic almost finishing Cormier in Round 2. Miocic would end up poking DC in the eye, an odd call-back to what DC did to Stipe in their previous fights.
9. UFC Vegas 16: Marvin Vettori vs Jack Hermansson
One of the more recent fights, the main event clash between Jack Hermansson and Marvin Vettori, wasn't expected to be a classic fight. However, the sudden emergence of Vettori and the never-give-up spirit of Hermansson won fans over.
The fight broke the record for most significant strikes thrown in a Middleweight bout ever. The fight it crossed was Israel Adesanya's coronation against Kelvin Gastelum, a fight many considered the Fight of the Year in 2019.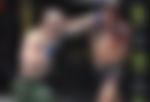 Vettori surprised many by easily taking down the Top-5 ranked Hermansson, who ended up taking the fight on short notice. Despite that, he slugged it out with Vettori for however long as he could.
The first 2 rounds were dominant for Vettori, who looked very close to finishing Hermansson. However, 'The Joker' came out with a strong Round 3 that made the fight instantly competitive again.
Despite that resurgence, Vettori made the necessary adjustments as the warriors indulged in a brutal slug-fest in the final rounds. Vettori would then go on to win via unanimous decision, and everyone left the fight card happy. Except for Hermansson.
8. UFC 249: Vicente Luque vs Niko Price II
UFC 249 was possibly the best way the UFC could have announced a return during the pandemic. Just a month into the shutdowns across the world, the UFC put on one hell of a show.
One of the star performances of the night came in the Welterweight war between Vicente Luque and Niko Price. In this rematch, Luque and Price delivered a 3-round affair which was VIOLENT, to say the least.
Both men bled all over the mat, and that also ended up playing a part in how the fight ended.
Luque won this 3-round war after the doctor held Niko back from competing. Luque had shut Price's eye with some brutal shots all night long. Despite the stoppage, everyone had seen plenty of action.
Luque employed smart striking and heavy overhands, while Price always landed his right hand whenever he needed it. However, the cumulative damage on Price's eye meant that Luque would get the win after the stoppage.
While that was the direction the fight was headed anyway, Price's heart convinced everyone that this may just come down to one punch. So it did, but in Luque's favor.
7. UFC Fight Night 169: Deiveson Figueredo vs Joseph Benavidez II
This isn't like the classics that we have listed up until now. This wasn't a war of attrition over multiple rounds. In fact, this was a fight that ended in the very first round.
However, the stakes and the manner in which this fight was won are what set this fight apart. Deiveson Figueiredo is establishing himself as one of the most exciting fighters in the UFC.
This one-round affair with Benavidez over the vacant Flyweight Championship was precisely what a fight fan would look for in a fight.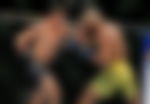 Both fighters approached each other with malicious intent, trading early in the fight. Fig got the better of Benavidez and kept trying to get him in a submission.
Benavidez would escape many attempts and even light up Fig with a few punches after escaping one attempt. However, Benavidez was clearly firing out of frustration, as Fig was calmly knocking him back down to the floor.
A bloody Benavidez would then go down yet again and give up his back to Fig. He would be choked unconscious, as Fig went on to be crowned the champ.
6. UFC 249: Justin Gaethje vs Tony Ferguson
Not only was this fight a war inside the cage, but it was also a historic fight. Tony Ferguson and Justin Gaethje became the first fighters to main event a card in the pandemic, and they didn't let anyone down.
Ferguson was supposed to fight Khabib Nurmagomedov, who could not make it. Gaethje could, and he did. While most had Tony as a favorite, they weren't quick to write Justin off. Good thing, because Gaethje ended one of the longest active win-streaks in the UFC.
Before the final round of the #UFC249 main event, @Justin_Gaethje's head coach @TrevorWittman showed an incredible ability to refocus his athlete.

Gaethje would "be sharp as a m—– f—–," going on to finish Tony Ferguson in that round and secure his first UFC championship. pic.twitter.com/oieLoZth7H

— ESPN MMA (@espnmma) May 11, 2020
In a brutal 5-round affair, Justin Gaethje out-classed Tony Ferguson from start to finish. The fight opened up slowly, with Tony taking an aggressive role. However, after Gaethje set his foot down and read the rhythm, he started coming out swinging.
Tony Ferguson isn't human, which is why he made it till the 5th round. Even then, his body wasn't quitting. The referee had to throw in the towel for Ferguson.
Both fighters just traded barbs all night long in a bid to become the interim UFC Lightweight Champion. Gaethje beat Ferguson, ending the dream of a Khabib-Tony fight.
5. UFC Fight Night 168: Dan Hooker vs Paul Felder
In a pre-pandemic era, this fight night was considered to be a little starved of elite competition. Despite the presence of two Top-10 lightweight contenders in Paul Felder and Dan Hooker, many questioned this card.
However, Felder and Hooker came out to prove why doubting them was a silly decision. In what ended up being one of the closest fights of the year, Hooker narrowly won a split-decision at the end of the fight.
However, not many would have complained if the judges decided that Felder was the winner that night.
The first few rounds of the fight were clearly the Hooker show, as the Kiwi fighter gave Felder a very hard time. He switched up between kicks and punches, doing visible damage to Felder.
However, as the fight wore on, Felder came more into his own skin. Hooker ate some very hard shots from Felder to soldier on in the fight.
By the end of it, his performance was good enough to have put Felder away, who had one of the most memorable late-fight surges we have seen in a long time.
4. UFC Vegas 3: Shane Burgos vs Josh Emmett
Fights that come down to the last-round are always the most exhilarating fights to watch. This was the case with Featherweights Shane Burgos and Josh Emmett when they met in one of the first Fight Night cards back in Las Vegas.
With a smaller cage that encourages a lot more action, the Featherweights proved that they were never afraid of the action in the first place.
Emmett went hard in the first round, pursuing Burgos with reckless abandon. He had to change this strategy, as he looked evidently bothered by his leg. Despite not being able to plant his foot on the mat, Emmett let fly some bombs on Burgos.
However, Burgos came back just as hard in the second round. He was eating shots, but doing a lot of damage to Emmett's visibly hurt lead leg.
In spite of all that, Emmett managed to knock Burgos' mouthpiece out in a round he lost. The third round was academic, as Emmett scored multiple knockdowns in a one-sided beating to decisively win the fight.
3. UFC Vegas 4: Dustin Poirier vs Dan Hooker
One week after Burgos and Emmett gave that classic on UFC Vegas 3, Dustin Poirier made his return at Vegas 4. There he took on Dan Hooker, last seen in that scintillating fight with Paul Felder.
Poirier was looking to re-establish his championship credentials, while Hooker looked to make a jump up the rankings.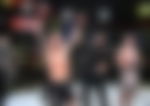 Like against Felder, Hooker had a hot early start, frustrating Poirier with a variety of strikes. However, Poirier got control of the situation sooner than Felder did and proceeded to be more dominant as the fight wore on.
Despite Poirier's efforts, Hooker kept coming back and giving 'The Diamond' a very hard time. This fight was one of the smartest striking displays of the year, as both hooker and Poirier landed bombs on each other in a cold and calculated way.
Ultimately, the judges gave Poirier the win on the scorecards. A very evident shift over rounds, with Round 3 proving to be very important for Poirier. That swung the fight in his favor and he continued to dominate till the final bell.
2. UFC 256: Deiveison Figueredo vs Brandon Moreno
We saw this fight just this weekend, and no. This isn't recency bias. This fight was possibly the greatest men's Flyweight encounter in the history of the UFC.
Yup, this was even better than Demetrious Johnson vs Henry Cejudo 2, one of the closest fights in the history of the company. Somehow, you could now say that this Flyweight title bout which ended in a draw was possibly even closer than the fight that ended the longest title reign in UFC history.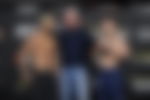 Figueredo stepped in on a month's notice to save the UFC 256 card against consensus contender Brandon Moreno. Fig opened the fight strong but didn't anticipate the chin that Moreno would have.
Fig took the first two rounds, but the third round was not so easy. The champ would get docked a point for a kick to the groin, in a round which Moreno decisively won. After this, the gloves were metaphorically off, as both men went after each other. Moreno carried his R3 momentum into the fourth, with Fig looking gassed.
However, the champion saved his reign by winning the final round and leaving with a majority draw. This fight has already been confirmed for a rematch, and it will be a tall task for that to live up to their first encounter.
1. UFC 248: Weili Zhang vs Joanna Jedrzejczyk
If Fig vs Moreno was the greatest men's flyweight bout, Weili Zhang vs Joanna Jedrzejczyk is the greatest women's MMA bout. They did more than enough to beat Fig and Moreno to the top of this list.
In terms of women's MMA, it is easily the greatest fight ever. If you were to scan the catalogs of fights over the decades, not many fights would hold a candle to this battle.
Zhang defended her Strawweight title against JJ in a brutal five-round slugfest. Another razor-thin decision on a card that ended up being the final card with audiences at UFC 248.
ADVERTISEMENT
Article continues below this ad
From the opening bell, everyone knew there was something special happening. Both fighters approached each other with vicious intent. Every time JJ hit Zhang with a combination, Zhang would respond with violent haymakers.
JJ would have a nasty hematoma on her forehead due to the sheer power of Zhang's shots. However, JJ's chin never failed her in this fight. She ate those shots and kept going back for more.
JJ was landing more technical combination punches that were affecting Zhang's flow. However, Zhang was throwing caution to the wind and willing to eat those combinations just to land a few heavy shots of her own.
ADVERTISEMENT
Article continues below this ad
Before we knew it, both women had done this for 5 action-packed rounds as the crowd grew electric. Zhang won the fight 48-47 to retain her title, and JJ definitely looked worse for wear. However, that fight could have just as easily been ruled in favor of JJ.