'This Embarassed Conor McGregor'- Chael Sonnen Comments on Dustin Poirier Charity Comments
Published 04/15/2021, 9:30 AM EDT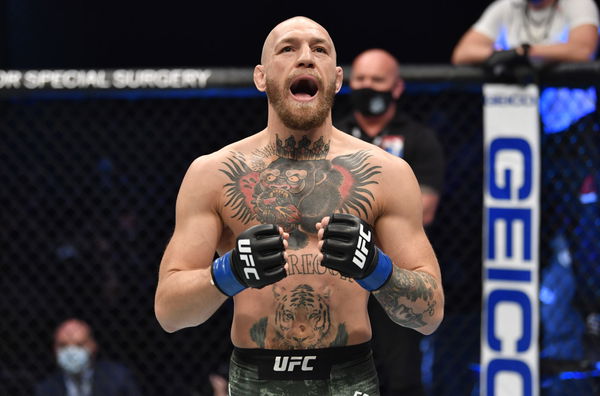 ---
---
Conor McGregor and Dustin Poirier saw their cordial rivalry be turned up over the last week. Just before the official fight announcement for their trilogy was made, Poirier alleged that McGregor never followed through on his promise to donate to 'The Good Fight Foundation'. McGregore responded by explaining why he hadn't donated and then said he was pulling out of the fight.
ADVERTISEMENT
Article continues below this ad
McGregor did not pull out of the fight, but Chael Sonnen believes there was a calculated reason behind why he didn't. McGregor was protecting something very important according to Sonnen, and that is his integrity.
ADVERTISEMENT
Article continues below this ad
"What a marketing gift that just fell into their lap. I haven't heard anything like this, I haven't seen anything manufactures, the best marketing is always organic. This embarrassed Conor McGregor. This didn't only upset him, this embarrassed him. And I'm not sure if we've ever seen him embarrassed. The one thing that a rich guy can't buy is integrity. Conor was attempting to buy some of that with this purchase. In all fairness, that is what that was about."
Sonnen added, "Conor is legitimately upset here and I genuinely thought he was going to pull out of this fight. Don't forget the topic we're talking about is that, can Conor be trusted? When Conor says that I'm not gonna do the fight and goes back and does the fight, it is a double loss."
Conor McGregor: Fighting for his integrity?
ADVERTISEMENT
Article continues below this ad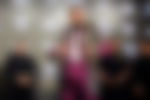 Conor McGregor can never easily be trusted. After all, he has retired from the sport multiple times and pre-emptively announced matches with Justin Gaethje and Diego Sanchez last year. While there may have been some truth to the Gaethje rumors, the Sanchez fight comments were considered bizarre and came out of nowhere.
ADVERTISEMENT
Article continues below this ad
With everything that has happened with McGregor in the public eye over the last few years, the question of his integrity being there is a valid one. However, it is unfair to say that decisions like that are based on that. This could have just been a marketing ploy that may have been over-extended. Ultimately, McGregor is fighting for titles and a chance to redeem himself against Poirier. That should be enough motivation.