TJ Dillashaw Sends a Warning to the Bantamweight Division
Published 12/03/2020, 10:20 AM EST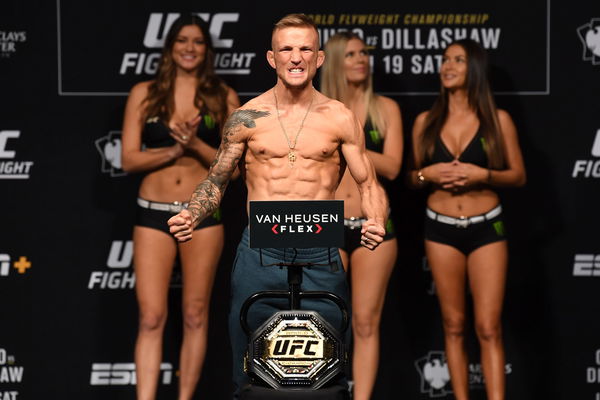 ---
---
TJ Dillashaw will complete his suspension by January 2021. The former Bantamweight champion will look to return to his division and once again reign supreme. Dillashaw also assures his fans he will be a three-time bantamweight champion.
ADVERTISEMENT
Article continues below this ad
Dillashaw first captured gold in 2014 when he dominated Renan Barao to win his first UFC title. He would then lose it to Dominick Cruz on his return, but once again won the title after he KO'd Cody Garbrandt. TJ was suspended in January 2019 for testing positive for a banned substance following his flyweight title fight with Henry Cejudo.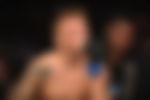 Speaking to Brett Okamoto of ESPN MMA, Dillashaw described how he has spent his suspension. With two years out of the sport, Dillashaw explained that he has been busy with life outside the octagon. He said, "I was just in Colombia getting stem cells done on my shoulders. Knowing that I'm gonna be returning, I want to make sure that was completely healthy and I did like giving back to the underprivileged kids down there.
ADVERTISEMENT
Article continues below this ad
"They wanted to learn martial arts and stuff, so I went to some of the worst areas you can go to Columbia. Giving back to the kids and just seeing how happy they were was so little to put a lot of perspectives you know like things we worry about the things we do doesn't mean that much you can be happy with so little."
TJ Dillashaw guarantees being a three-time champion

Okamoto asked Dillashaw if there were any differences since he last fought in the octagon. Dillashaw replied, "It's definitely different. Like I said I don't have to fight now right, like before as I did. Also because I want to be the best but it's also a paycheck. I'm trying to make generational wealth, I'm trying to continue to make that money and so back then it was like I needed those paychecks.
"I want to continue to do certain things, but I've taken that pressure off myself, you know, being successful within business. I don't have to fight for a living now.
"I'm going to have the added pressure of everything we just talked about, of me coming back and having to prove myself. I feel like the more pressure that I have on myself, the more I'm going to drive to shut people up."
ADVERTISEMENT
Article continues below this ad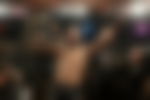 Dillashaw is confident that he still has what it takes to be a champion. He concluded, "I've always been the guy that's going to rise to pressure, and I kind of like the extra motivation. The motivation for me is to have that added pressure, to have something to push for, and I guarantee you I'm getting my belt back. I'll be a three-time bantamweight champion. That's the guarantee."
TJ will now look to return to the octagon in March and wants his title shot right away. Current champion Petr Yan had pulled out of his scheduled fight against Aljamain Sterling. The UFC could look at booking the current champion against the former champion in what would be a tremendous fight.
ADVERTISEMENT
Article continues below this ad
Read : 'He Knows He's Not the Best'- TJ Dillashaw Belittles Henry Cejudo