Top 10 Quotes by UFC Fighters in 2020
Published 12/26/2020, 6:28 AM EST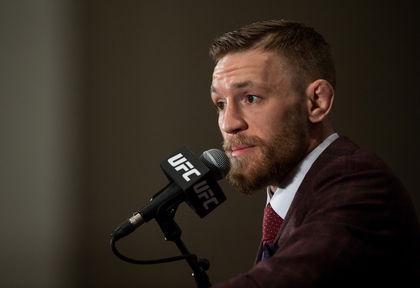 ---
---
2020 has been a stellar year for the UFC. Despite a pandemic raging across the country, the UFC managed to put on multiple successful shows and in the process break multiple company records. 
ADVERTISEMENT
Article continues below this ad
The year has been filled with break out stars, stunning KO's, incredible submission and many more such moments that make us fans of the sport. We take a look at some of the most memorable quotes in the UFC this year in this article. 
UFC 246: Conor McGregor 
ADVERTISEMENT
Article continues below this ad
'The Notorious' marked his return to the octagon this year with a stunning 40-second knockout over Donald Cerrone. In the post-fight interview, when Rogan asked Conor who he would like to fight next, McGregor replied, "And anyone of these little mouthy fools can get it.
"Even that little fool at the desk, all of them. Every single one of them will get it, Joe, does not matter. I'm back and I'm ready"
Although McGregor did not fight again in 2020, the post-fight interview was yet another classic from arguably the biggest name in combat sports today.
Dustin Poirier vs Dan Hooker 
Dustin Poirier took on Dan Hooker in June this year. 'The Diamond' last fought for the title where he came up short against 'The Eagle'. During his fight against Poirier, Hooker landed a low kick that landed on the groin, this was followed by another low kick.
Michael Bisping who was on the desk commentating on the fight spoke about the low kicks and said that Hooker should be more careful. Dustin then said, "Listen to Bisping" aimed at Dan Hooker while the fight was going on. 
Kevin Holland after winning his fifth fight of the year 
Kevin Holland has been undoubtedly one of the breakout stars of this year. 'Trailblazer' set a record in the middleweight division when he became the first fighter to reach 5-0 this calendar year. 
After his latest win against Ronaldo Souza, in the post-fight interview, Holland called out Khamzat Chimaev, who was scheduled to fight next weekend.
The fight, however, got called off as his opponent tested positive for COVID. Holland said, "That's what he does, right? (taking fights on short notice) I think I do it better."
Darren Till and Mike Perry 
The rivalry between Mike Perry and Darren Till has been one of the most entertaining aspects in 2020. Till revealed that he and Perry decided to go at each other to entertain fans during the lockdown.
However, things got heated when Till posted a picture of 'Platinum' and made remarks about his girlfriend. At that point, entertainment turned into a bitter rivalry.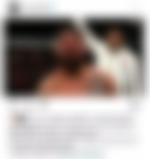 Both men have since been going at each other on social media. Perry has also stated that he is willing to move up weight classes to fight 'The Gorilla'
UFC 254: Khabib announces his retirement 
'The Eagle' took on Justin Gaethje as his third title defense this year. A dominant performance saw Khabib submit Gaethje in the second round of the fight. 
The announcement that followed overshadowed the performance. In the post-fight interview, Khabib said,
" Today I want to say, it was my last fight. Ain't no way I'm going to come here without my father."
'The Eagle's' retirement was one of the most shocking moments of the year and one that no one expected. 
Henry Cejudo vs Dominick Cruz 
Henry Cejudo took on Dominick Cruz at UFC 249 to defend his bantamweight belt against a former champion. Cejudo stopped Cruz in the second round of the fight. 
After his fight, in the post-fight interview, Cejudo made an announcement that shocked the MMA fans. He said,
"Since I was 11 years old, I sacrificed my whole life to get where I am at today.
"I'm not going to let nobody take that from me so I'm retiring tonight Joe…. 'Triple C' is out. You guys don't have to hear my a** no more."
Yoel Romero prior to his fight against Israel Adesanya 
Yoel Romero took on Israel Adesanya at UFC 248 for the middleweight belt. Leading up to the fight, Romero gave one of the most memorable interviews in his UFC career. 
'The Soldier of God' was speaking of how Joe Frazier beat Muhammad Ali using dirty boxing. The Cuban then proceeded to take off his glasses and said,
"Everything is possible in your life when you believe.
"When you believe, everything is possible. You have two hands like me. Everything is possible. Go, go and take it whatever you want to do"
Khamzat Chimaev makes a quick turnaround 
Khamzat Chimaev impressed on his debut when he stopped John Phillips in the second round of their fight in July this year. 'Borz' then impressed the community when he asked Dana White for an immediate fight on Fight Island itself. 
While speaking to the press Chimaev said, "
Yeah, I say to Dana, I want to fight next week.
" Dana White obliged and Chimaev set a record for the fastest turnaround win in the UFC when he secured an impressive win over Rhys McKee just 10 days after his UFC debut. 
Dana White names the toughest challenge in his UFC career 
Dana White has been heading the UFC since day one. During his tenure as the head honcho, White has had to overcome a lot of challenges to get the UFC to where it is today. 
However, White says navigating through the pandemic and hosting fights while the world battles a pandemic has been the toughest test of his career thus far.
He said, "Listen, if you don't think that what I am doing right now is probably the hardest thing I've ever done. And if you don't think that 3 times a day I throw my f***ing hands up and I'm ready to say you know what f**k this shit believe me."
ADVERTISEMENT
Article continues below this ad
Kamaru Usman: "I Broke your face" 
Kamaru Usman took on Colby Covington in a grudge match in December 2019. 'The Nigerian Nightmare' stopped 'Chaos' in the 4th round of the fight. In the fight, Covington suffered multiple injuries, a broken jaw being one of them. 
Covington fought once this year against former champion Tyron Woodley. After a dominant win, Covington was interviewed by his arch-rival Usman.
ADVERTISEMENT
Article continues below this ad
Both men started going at each other and Kamaru was heard yelling "I Broke your face" to remind Covington of what happened the last time the two men faced each other.