UFC Top 10 Fights of the Decade: Conor McGregor, Nate Diaz, Jon Jones and More Make the List
Published 12/27/2020, 11:00 AM EST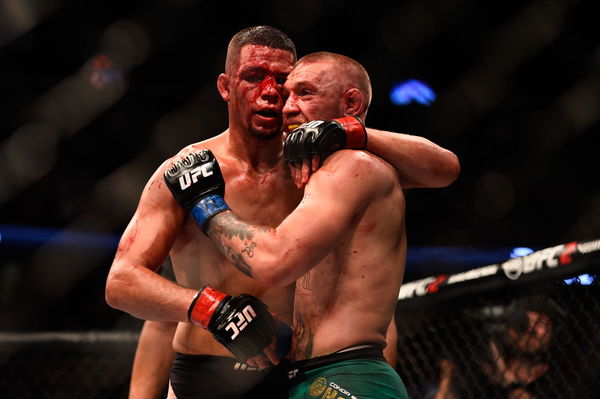 ---
---
The UFC have had one of the greatest decades that any sports organization has enjoyed. The company exploded from being on the bubble of 'mainstream' to one of the primary drivers of pop culture.
ADVERTISEMENT
Article continues below this ad
The larger-than-life aura of the sport was created inside the cage. While we have superstars known for their trash talk, the buck stops inside the cage.
Throughout the last decade, the UFC has been producing multiple cards a month. However, only a select few bouts stand through the test of time and can be remembered for their greatness. As 2020 comes to a close, we are looking at the 10 greatest UFC fights of this decade.
ADVERTISEMENT
Article continues below this ad
Some honorable mentions are Robert Whittaker vs Yoel Romero II, Cub Swanson vs Doo Hoi-Choi, Justin Gaethje vs Michael Johnson, Robbie Lawler vs Carlos Condit, and The Korean Zombie vs Dustin Poirier.
UFC 202: Conor McGregor vs Nate Diaz II
We open this list with one of the most famous fights of all time. The much-anticipated rematch between Conor McGregor and Nate Diaz at UFC 202 was one of the few instances that MMA truly felt special.
The attention that Conor had brought to the sport was unprecedented. He stood across the cage from the man that gave him his first UFC loss, who has become an unlikely mega-star himself.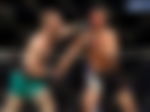 McGregor tapped out to a rear-naked choke in the 3rd round of their first encounter. Just a few months later, the pair met again in a fight that was palpable with excitement.
While there may have been better fights within the cage, no fight up until then had as much hype as this one. And it delivered.
The Welterweight meeting saw both men come in at the peak of their powers. McGregor had his regular hot-start, but Diaz ate most of his strikes up and kept pushing forward.
McGregor looked to be gassing out like he did in their first fight, but managed to stay on his feet and continued exchanging strikes with Diaz.
Ultimately, McGregor won a close decision to level this feud at 1-1 and prove he can weather adversity. He went on to challenge Eddie Alvarez for the Lightweight Championship and won that bout as well.
UFC Fight Night Brisbane: Mark Hunt vs Antonio 'Bigfoot' Silva I
2011 was a good year for fights. While we will come across another fight from that year on this list, we want to talk about Mark Hunt vs Bigfoot Silva's war in Brisbane.
A fight that many still consider the greatest Heavyweight battle of all time, this fight exceeded all expectations. Hunt and Silva were expected to be in their decline, with their heydays in PRIDE and K-1 behind them.
However, both men had championship aspirations in the UFC and had one hell of a brawl.
Silva would dominate the early goings of the fight. Hunt has one of the most notorious chins in MMA, and it was on full display.
However, Bigfoot did manage to knock Hunt down to the canvas. If only he could have knocked him out, as Hunt came back with a vengeance.
Hunt would drop Bigfoot at the mid-way point of the fight and unleash hell on Silva for the rest of the night. Elbows, jabs, hooks, you name it. Hunt threw everything but the kitchen sink at Silva's face, who did the same back.
Both men stood bloodied at the end of the night, with the judges rewarding them both for their performance with a draw verdict.
UFC 117: Anderson Silva vs Chael Sonnen I
Anderson Silva's battle against Chael Sonnen at UFC 117 exemplified what a champion's spirit in MMA should be. Silva was on top of the world as the most dominant champion in UFC history.
He was flirting with a super-fight against Georges St-Pierre and building his own brand up. However, he eventually had to face off against Chael Sonnen.
Sonnen wasn't as well-respected as Silva, but was a very tough competitor. The sweet-talking grappler made a show out of their pre-fight hype, using his pro-wrestling style charm to build up anticipation. He lived up to it inside the cage, absolutely mauling Silva when the time to fight came.
Sonnen was coasting his way to an easy win, completely neutralizing Silva's vicious stand-up with fantastic wrestling. Sonnen wasn't just holding Silva down, but also doing significant damage with ground and pound.
However, Silva managed to catch a vulnerable Sonnen into a triangle choke/armbar, the biggest weakness in Chael's game. Sonnen had no choice but to tap in one of the most unlikely comebacks in MMA history. The lore of Anderson Silva was cemented that day.
UFC 227: Demetrious Johnson vs Henry Cejudo II
When Henry Cejudo was re-booked to challenge Demetrious Johnson for the Flyweight title, it felt like another elementary defense of the title by DJ. He had beaten Cejudo before and genuinely looked unstoppable.
However, Cejudo had made rapid improvements since their last fight and was ready to lock DJ in for a 25-minute classic which may be the greatest Flyweight bout of all time.
DJ opened the fight with a strong round one, putting the challenger at bay with his technical striking. The key was brutal leg kicks to slow Cejudo down and make it harder for him to connect on takedowns.
However, that did not stop Cejudo, who would keep using his wrestling against DJ. Round 3 was another easy DJ win, but Cejudo was the one that came up big in the championship rounds.
The fight was scored in Cejudo's favor, in a decision that split the community. However, it was time that everyone accepted that the greatest UFC champion of all time has lost his title with a fantastic performance.
Despite being the better striker all fight long, Cejudo's occasional takedowns helped him snatch the title and embark on an iconic reign of his own. This was the last time DJ fought for the UFC, being traded to ONE Championship for Ben Askren soon after.
UFC 125: Frankie Edgar vs Gray Maynard II
2011 is back on the list with one of the most iconic Lightweight title fights of all time. The Frankie Edgar vs Gray Maynard trilogy is possibly one of the greatest fight trilogies we have ever seen.
The magnum opus of this feud has to be their second encounter from 2011 when Edgar was defending his Lightweight title against Maynard, who had won their first fight in 2008.
Maynard dominated the first round, scoring an easy 10-8 over the champion. The fight could have been stopped in the first round, but Edgar managed to stay in it.
He came back and won the second round, as Edgar slowed the fight down and masterfully struck his way to weaken Maynard. Both men stayed in each other's faces for the entire fight, mixing up striking with submission attempts and wrestling.
Ultimately, both men survived till the final bell. While some had scored this for Edgar and some for Maynard, the final result was a draw. This fight is easily the greatest Lightweight fight of all time and is still remembered as one of the hardest fights to score.
UFC 139: Mauricio 'Shogun' Rua vs Dan Henderson I
2011 had some terrific fights, but Shogun Rua vs Dan Henderson was possibly the best. The former PRIDE champions were atop the UFC Light Heavyweight division at the time and were meeting in a fight with title implications.
They were main eventing a PPV without a title on the line and decided to show that title fights aren't always the best fights.
For 25 minutes, both men decided that offense is the best form of defense. The fight went all over the place, with Rua knocking Hendo down and Hendo returning the favor later into the fight.
As the fight went on, it was clear that Henderson was building a lead. That is when Shogun came out of the back and tried his hardest to wrest the win away from Henderson. Ultimately, it was Dan who would win the fight via unanimous decision.
Shogun's fifth round was one that many people argued was a 10-8 over Dan. However, the result was what it was. It was a fantastic fight, and Shogun would still go on to become the Light Heavyweight Champion.
UFC 165: Jon Jones vs Alexander Gustafsson I
The greatest championship defense in Light Heavyweight title history came last decade as well. Jon Jones had ascended to the top of the sport, many wondered who can best him.
Jones tore through all the Light Heavyweight legends that came before him and awaited a new challenge in the Swedish fighter Alexander Gustafsson. Gus wasn't touted to beat Jones, but what happened in the cage was a different story.
One of the reasons this fight is so memorable is because Gus emerged out of nowhere. He took the fight to the incumbent champion Jones, who looked very unprepared for this kind of battle.
Not only was Gus lighting Jones up on his feet, but he also became the first man to take the champion down in a fight. He continued the good form for most of the fight until Jones went into champion mode.
A spinning elbow rocked Gus, and he was never the same. Jones kept coming at the Swede, who did an admirable job in staying in the fight.
At the horn, there was genuine excitement over whether Gus had done the unthinkable. Sadly, he had not. But the fight was an instant classic and is still remembered as one of the best fights the division or the promotion has ever seen.
UFC 236: Israel Adesanya vs Kelvin Gastelum
Israel Adesanya's ascension to championship status saw a very tough test at UFC 236. In the co-main event, Izzy faced number one contender Kelvin Gastelum, who had already seen a title booking against Robert Whittaker fall apart in February 2019. However, he did get a title shot against Izzy for the interim Middleweight strap.
While many were excited about this fight, no one could have predicted how well it would turn out. In one of the closest fights in Middleweight history, Gastelum and Adesanya traded rounds in a hard-fought battle.
Gastelum was landing some heavy bombs on Izzy, who was still using his craft striking to keep Gastelum at bay. However, the power shots that Gastelum landed were making Izzy adjust to things constantly.
They went into the final round even on the scorecards, where Izzy put in a true champion's performance and nearly finished Gastelum with strikes and then with a submission.
A 10-8 round later, Izzy booked a date against Whittaker for the undisputed title, a title he would win and is still holding.
UFC 248: Weili Zhang vs Joanna Jedrzejczyk
One could claim recency bias for this entry, but the case of Weili Zhang and Joanna Jedrzejczyk as one of the greatest UFC fights is very strong.
Many could argue that it can stand at number one on this list. There is no doubt that the battle between JJ and Zhang in February 2020 is the greatest women's fight of all time.
The Strawweight champion Zhang would put her power on display against JJ, who is one of the most feared competitors in that division.
Joanna's chin faced a ton of punishment all night long, but never gave in. Her forehead did, though, as she sported a nasty hematoma for most of the fight.
JJ's striking was on point, but she had no answer for the power in Zhang's shots. The crowd was electric for this battle, as both women stayed in front of each other and traded shots that would have put most fighters out cold.
The judges would eventually rule in Zhang's favor, who would narrowly escape with her title. The greatest women's fight of all time took place, and the crowd reacted appropriately to it.
UFC 189: Robbie Lawler vs Rory MacDonald II
The greatest fight in the history of the Welterweight title did not come under the reign of Georges St-Pierre. While he had some great bouts with BJ Penn and others, no Welterweight title fight comes close to the madness of Robbie Lawler vs Rory MacDonald II.
In a spot under hype-machine Conor McGregor, Lawler and MacDonald had one of the greatest brawls in the history of the sport.
ADVERTISEMENT
Article continues below this ad
One of the bloodiest fights you will ever see, Lawler and MacDonald flung bombs at each other from the opening bell. MacDonald was controlling the pace of the fight throughout and was winning, heading into the championship rounds.
However, a true champion fights back in the hardest of situations. After an iconic stare down to start the fifth and final round, 'Ruthless' Robbie Lawler managed to stop MacDonald.
ADVERTISEMENT
Article continues below this ad
The fight's effects were on both men's faces and all over the canvas. Lawler defended his title when it looked lost. The fight was grim, bloody, and brutal. Everything you would want inside the Octagon.
Do you agree with us? Let us know what your Top 10 would be in the comments.