UFC Commentator Jon Anik Says People Were Turning Off Their TV's During UFC 261
Published 04/27/2021, 11:46 PM EDT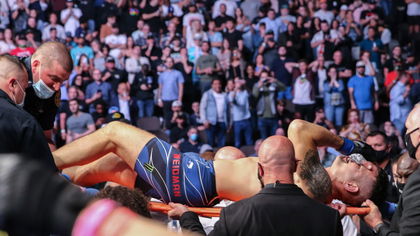 ---
---
UFC 261 gave us some of the best championship finishes in recent UFC events. However, there were a couple of gruesome injuries in the two fights before the championship triple-header. The injuries to Jimmy Crute and Chris Weidman may have prompted viewers back at home to switch off their television sets for the rest of the card.
ADVERTISEMENT
Article continues below this ad
Talking about the UFC 261 event on his YouTube channel, Jon Anik said, "UFC 261 singularly for me is the most memorable live event that I had been a part of and if you wanna call that recency bias because it just happened then it's okay."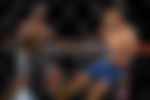 ADVERTISEMENT
Article continues below this ad
"Maybe I would say that's lenient to the negative a little bit. The way this event started with these two injuries, that had people texting me they were turning off their TVs because they couldn't see anymore." 
Seeing Weidman's leg snap and Crute's leg swell up may have been shocking and emotional for people watching it at home, but more so for people watching it live in the stadium. Though these were unfortunate injuries, the title fights were brilliant. Anik concluded, "If you did turn your TV off, then you missed some of the greatest championship finishes in UFC history."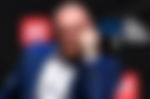 Chris Weidman vs Uriah Hall at UFC 261
Former middleweight champion Weidman (15-6) faced Hall in the main card bout. Hall won this fight without even landing a shot inside 17 seconds. Weidman threw a heavy low kick, which Hall checked with his left knee.
This snapped Weidman's fibula and tibia on contact. Subsequently, the referee waved off the contest. The sad irony is that Weidman won a similar match in 2013 against Anderson Silva when the latter snapped his leg. After the match, 'Primetime' was emotional and had some words of comfort for Weidman.
Jimmy Crute vs Anthony Smith
In the opening round, Crute was doing well initially with take-downs, but he took too many outside kicks from Smith. These attacks took a toll on his legs.
Smith then went with a hard kick midway in the round and Crute got knocked down. In survival mode, 'The Brute' attempted another takedown. He was successful and kept 'Lionheart' on the canvas for the rest of the first round.
ADVERTISEMENT
Article continues below this ad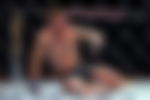 He barely stood up after the round and gingerly walked towards his corner. It was clear he wouldn't able to continue further and the cage-side physician put a stamp on it as he stopped the match.
Such injuries are horrifying in the sporting world, but that's how this sport goes. Fighters need to be prepared for any kind of injury to happen at any moment. What was your reaction to their injuries?
ADVERTISEMENT
Article continues below this ad