'Why Can't I Be Like Other Kids'- Francis Ngannou Details Childhood Troubles in Early Life
Published 03/23/2021, 12:29 AM EDT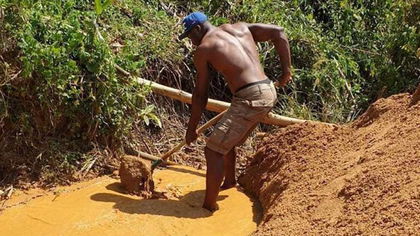 ---
---
Francis Ngannou's path to UFC superstardom has been nothing short of inspirational. The Cameroonian was brought up in abject poverty and has shared stories of how he did not have enough money to buy basic necessities such as shoes and books for school. His journey from Cameroon to France and his transition to an MMA fighter is something that commands one's respect. 
ADVERTISEMENT
Article continues below this ad
Despite all the odds being stacked against him, 'The Predator' made it to the UFC. This weekend, he has the opportunity to realize a lifelong dream of becoming a world champion in the UFC. 
Read: 'I love it'- Conor McGregor shares moments from his illustrious career 
ADVERTISEMENT
Article continues below this ad
Francis Ngannou reveals the source for his insane work ethic
In a recent interview, Francis Ngannou shared experiences from his childhood that molded his insane work ethic.
He said,
"I never been in vacation in my entire life. Because a vacation for me was an opportunity to go to work. To find how I can get the money to pay my scholar fee, or to buy a book, or a pen or something, and that has been my entire life. And I used to really hate it. I was pi**ed off about it, like what did I do to deserve this? Why can't I just be like other kids? Like normal family, go for vacation, come back with brand new stuff."
ADVERTISEMENT
Article continues below this ad
'The Predator' continued, "That kind of like cultivate my character, get me hungry. I wanted to prove them wrong on looking me down like I'm not worth it. That give me this like anger that push me to go over all this. Because I'm like okay, I'm going to prove them wrong."
A reinvigorated Ngannou takes on an ever-improving Stipe Miocic this weekend at UFC 260. The Cameroonian has adopted a different approach this time out.
He aims to step on the scale a lot lighter than he did for the first fight. 'The Predator' hopes that this will help him last longer and thus have a better chance at winning the fight. 
ADVERTISEMENT
Article continues below this ad
What do you make of the main event at UFC 260? Do you think it will be 2-0 for Miocic or will Ngannou see the fruits of his childhood struggles?