Why Conor McGregor Should Be Afraid of Dustin Poirier Ahead Of Their UFC 257 Clash
Published 01/03/2021, 12:30 PM EST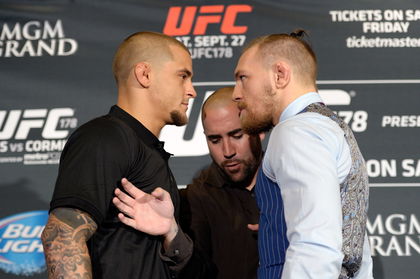 ---
---
Conor McGregor and Dustin Poirier will have a rematch 7 years in the making as they face off later this month at UFC 257. McGregor will fight in the UFC for the first time in a year, while Poirier will be returning to the Octagon after a 6-month break. Both men won their last fight, with Conor knocking out Donald Cerrone and Poirer handling Dan Hooker.
ADVERTISEMENT
Article continues below this ad
However, the score between these two men is 1-0 to McGregor heading into this rematch. The first bout was also quite an easy win for McGregor, who dusted Poirier off in the first round. But the world is very different from then. McGregor became a superstar and rarely fights now, while Poirier is a former interim champion now.
ADVERTISEMENT
Article continues below this ad
However, anyone expecting a Conor blitz-show like the one in 2014 may be in for a rude surprise. Poirier is not nearly the same fighter he was then, and this new Poirier should be scary. Conor may still be the better fighter, but the tools Poirier has now made him a much more viable challenger than he was before.
Conor McGregor vs Dustin Poirier: Is Poirier being underestimated?
The reason why Conor McGregor needs to be wary of Poirier is simply experience. Poirier has fought 12 times since and has only lost twice. One of those losses came to Khabib Nurmagomedov, the same man that gave Conor his last loss.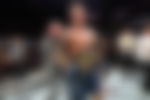 Dustin has far better movement on his feet now, something he proved against both Max Holloway in their interim title fight in 2019 and against Hooker in 2020. He also is much better at pacing himself through a fight now, seeing five-round decisions in his last two wins. He always had the grappling advantage over Conor anyway, especially now.
The closest Khabib came to losing his belt was when Poirier had him in a guillotine choke. Conor did not have the same success when he faced Khabib, so just that comparison would portray Dustin as the better fighter.
ADVERTISEMENT
Article continues below this ad
With the wealth of experience, improvements to make his stand-up more than competent, and a better gas tank than Conor, Poirier has a lot of tools at his disposal. However, he will have to be careful of Conor blasting him out of his Southpaw stance. Conor is a fast-starter, so if he can have some early success, we may see Poirier reeling early.
ADVERTISEMENT
Article continues below this ad
Conor is the favorite, and maybe he should be. However, Dustin Poirier is no slouch, and Conor should be afraid of this fight going sideways for him.