Why is Kamaru Usman Nicknamed 'Marty'?
Published 04/24/2021, 12:47 PM EDT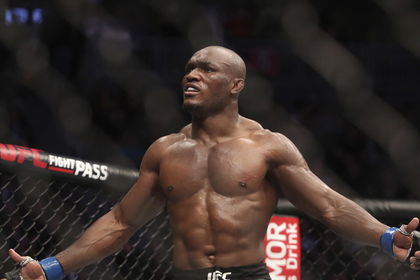 ---
---
Kamaru Usman is one of the greatest mixed martial artists of all time. He is currently the UFC welterweight champion and is undefeated in the promotion. He will once again return to the octagon to defend his belt against welterweight veteran Jorge Masvidal at UFC 261.
ADVERTISEMENT
Article continues below this ad
Apart from his nickname 'Nigerian Nightmare', there is another name associated with him which he doesn't seem to like that much, 'Marty'. A name his fellow fighters have used to tease him. He once got angry at Ben Askren for calling him by this name.
ADVERTISEMENT
Article continues below this ad
Colby Covington once gave him the name Marty Fakenewsman. Colby was high on confidence after beating Rafael dos Santos at UFC 225 for the interim welterweight title. He wanted to face Usman for the title but had to wait as the champ was nursing an injury for which he required surgery.
However, Colby believed Usman was faking the injury and subsequent surgery to avoid a matchup with him. He had said, "Dude, he's f**king fake news, that's why he's Marty Fakenewsman. He never got surgery. That's the spoiler. I'm the king of spoilers. Spoiler alert. Kamaru Usman did not get surgery. It's a fake injury. A fake excuse. He's just trying to delay the inevitable. He knows what's coming. He knows what's in front of him now."
Many have wondered where the name Marty got originated from, to clear all doubts, the welterweight took his time out from his busy schedule and explained it in detail.
Kamaru Usman explains the origin of the name 'Marty'
Usman, while talking for Anatomy of a Fighter, discussed about his dislike for the nickname. He said his first name always got butchered by his teachers. "I'll be in class and teachers are like 'Uhh, Ka-Ma-Ru-Deen', and I just got tired and tired, and tired of people butchering that name."
Usman started wrestling in his sophomore year in high school, at Bowie High School in Arlington, Texas. He recalls an incident from his training days. Usman says his head coach was finding it difficult to pronounce his name and came up with a more simple name 'Marty'.
ADVERTISEMENT
Article continues below this ad
He said, "I ran into our head wrestling coach for the first time, and he comes over, he looks at the roll call, he's calling roll and he looks at my name and he's like…' I'm not going to say that. I'm going to call you Marty."
Usman believed he would get away from the name after his college days, but as he got more successful, his college mates and trainers started to recognize him from this name. Now, he wants everyone to call him by the name his father has given him, considering he is a superstar.
ADVERTISEMENT
Article continues below this ad
While he gets frustrated if someone calls him 'Marty', it hasn't really bothered him when he is about to enter the ring. All the side talks take a backseat and this is the reason he is undefeated till now in the promotion. This Saturday he will try to do once again what he does best, fight and win. 'Marty' or not, he certainly is a 'Nigerian Nightmare' for his opponents.