'You Are An Idiot'- Dana White Slams People For Calling Kamaru Usman Boring
Published 04/26/2021, 2:38 PM EDT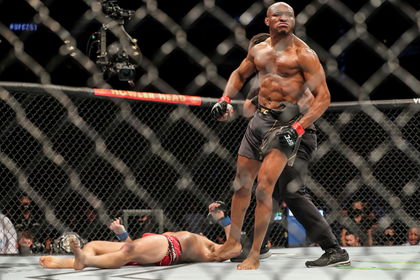 ---
---
UFC welterweight champion Kamaru Usman defeated veteran fighter Jorge Masvidal via second-round KO. Both of them headlined the UFC 261 card in front of a live crowd at Jacksonville, Florida.
ADVERTISEMENT
Article continues below this ad
Usman's performance was a clear slap in the face of those who've labeled him 'boring'.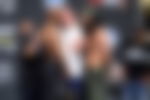 ADVERTISEMENT
Article continues below this ad
In the post-fight interview, Dana White was asked about his take on Usman. White said, "Listen, I think we all can agree, no matter how you feel you know the guy is getting booed in there tonight." 
Usman got booed while he was entering and even when he was fighting.
"He is one of the best ever and he's on his way to probably being the greatest of all time," White added. "The guy is an absolute stud. He looks better every time he comes up."
White had some words for people calling Usman boring.
"These people talk about him being boring. You are an idiot, you are an idiot if you think this guy is boring." He concluded by saying, "He hasn't been in a boring fight in a while."
Usman is undefeated in the promotion; he is a force to reckon with. It hasn't been easy for anyone to dominate him, let alone win against him. He is thought to be a fighter who uses his extreme and overwhelming wrestling capabilities to win over his opponents rather than going for eye-catching knockout blows. This trait of his had made fans, and even his fellow fighters, call him boring.
Last year, too, the issue got raised when he fought Masvidal for the first time. He had earned himself a unanimous victory after 5 rounds, which was termed as one of the lackluster main events of the year.
Has Kamaru Usman now silenced people calling him boring?
Usman has now defeated Masvidal twice in a year. Last time, people called him a foot-stomper after their match, but this time around, there was nothing like that.
He absolutely demolished 'Gamebred' with a right-hand punch and sent shock waves around the MMA world. Masvidal was clearly not prepared for the 'A' game Usman brought and paid the price.
ADVERTISEMENT
Article continues below this ad
It was a message for all those who thought he him to be a boring fighter. We had already seen the trailer at UFC 258 when he fought against his longtime training partner, Gilbert Burns. He defeated him in that match in a dominating fashion via TKO in round three. And the picture culminated with him destroying Masvidal in a quick time to keep his belt.
Usman never got distracted by people calling him boring earlier. But this time, he took it on himself to silence everyone once it for all. All the 'boring' chants should now rest in peace. Has Usman finally silenced his critics?
ADVERTISEMENT
Article continues below this ad