'You Can See Where It Breaks'- Joe Rogan Breaks Down Conor McGregor's Freak Injury at UFC 264
Published 07/13/2021, 2:04 AM EDT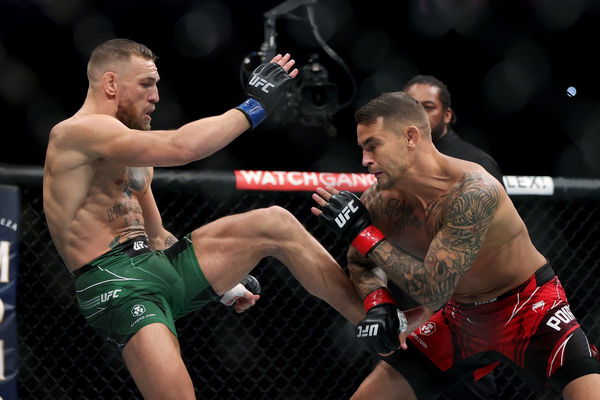 ---
---
Injuries are part of combat sports such as MMA and boxing. Fighters often suffer nasty cuts and other severe injuries while competing in the octagon. However, there have been only a few instances in the UFC where a fighter's leg has completely snapped in half. Anderson Silva and most recently Chris Weidman and Conor McGregor are examples that come to mind. 
ADVERTISEMENT
Article continues below this ad
McGregor suffered arguably the most dangerous injury of his life when he broke his leg in the very first round of his trilogy fight against Dustin Poirier. UFC faithful and Dustin Poirier himself believed it was because of him checking a kick with his knee. However, clips that have emerged since, suggest otherwise. 
ADVERTISEMENT
Article continues below this ad
Joe Rogan took to Twitter to share his thoughts on the accident. He said, "This is it. You can see where it breaks. Shoutout to @eric_xcmma's mom! If you go to @laura_sanko's page she did an amazing job interviewing @coach_kavanagh and he describes exactly what we're seeing here"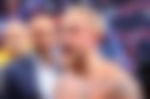 Conor McGregor's first-round assessment at UFC 264 
ADVERTISEMENT
Article continues below this ad
Going into the third fight against Dustin Poirier, a lot was made about McGregor's movement. In the second fight, McGregor came out heavy on his lead leg and did not adopt the free-flowing movement in a karate stance that he is famous for. This allowed Dustin Poirier to chop away at his lead leg with calf kicks, which eventually ended the fight. 
In the third fight, 'The Notorious' came out in much better shape. He used his movement well and utilized kicks to back Dustin Poirier up against the fence in order to set up his right hand. However, 'The Notorious' jumped prematurely on a guillotine choke against a fighter who is a far superior Jiu-Jitsu fighter. This allowed 'The Diamond' to gain top control from where he unleashed lethal punches and elbows, 28 strikes to be precise. 
Watch this story:- 5 Fights That Were More Entertaining Than Dustin Poirier vs. Conor McGregor Trilogy At UFC 264
Despite looking a lot better than he did in the second fight, an unfortunate injury ended McGregor's chances of securing a win in the trilogy. Although both men will definitely fight again at some point, it will not be anytime soon given McGregor will be out for a while. 
ADVERTISEMENT
Article continues below this ad