'You Relaxed Too Much'- Khabib Nurmagomedov's Reaction to Islam Makhachev Being Taken Down By Thiago Moises
Published 07/18/2021, 10:03 AM EDT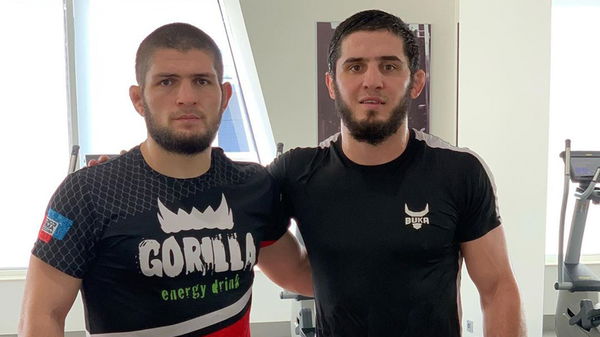 ---
---
UFC Lightweight sensation Islam Makhachev successfully thwarted a dangerous-looking Thiago Moises in their headlining clash at UFC Vegas 31. The Dagestani mauler submitted Moises in the fourth round after applying the rear-naked choke.
ADVERTISEMENT
Article continues below this ad
This was the first main event for Makhachev and also the first time he competed in any 5-round scheduled matchup. He thus extended his winning run to 8 consecutive victories and 9 overall victories in his 10 fight old career in UFC.
ADVERTISEMENT
Article continues below this ad
Although his win was on the expected line, he did have some trouble during the match. In one of the rounds, Moises was able to shoot on his legs and took him down. The Brazilian fighter aimed for the double leg takedown and was successful. This was a pinch of salt for Makhachev to take in an otherwise dominant win.
During his post-fight interview, Makhachev explained how the takedown by Moises made him a bit upset. "Little bit I'm sad because he takes me down," Makhachev said. "Because you know I don't believe he takes me down, but I give him legs, you know. I give him my legs."
Makhachev then detailed how Moises could take him down. "He catch me double leg and I tried to defense, but he closed you know, but it's ok…I tried to give him but he escaped. He is good jiu-jitsu. That's why I'm little bit (upset)."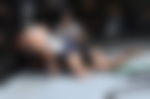 Makhachev then explained how his friends who are well versed in wrestling were a bit upset with him, including Khabib. "He told me, 'you relaxed too much when he goes to the double leg.'"
What's next for Islam Makhachev?
Makhachev (20-1) is striving to get into a big event fight against the top-ranked opponents. Irrespective of his current lightweight standing, he is a bonafide top 10 fighter if not in the top 5.
His performances couldn't be overlooked for much longer and many in the UFC hierarchy know he is championship material.
So the big question. What's next for Makhachev after this win?
A matchup with Tony Ferguson could do wonders for both the lightweight maestros. Ferguson is currently on the worst slide of his career with three consecutive losses. His dream matchup with Makhachev's mentor, Khabib, never materialized beyond the paper.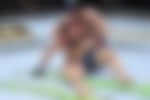 A fight and subsequent win over Islam could put him right into the title frame mix. Also, Makhachev is long been compared to 'The Eagle' for their similar style of fighting. This matchup might re-ignite the flame that once used to happen when Ferguson and Khabib interacted.
ADVERTISEMENT
Article continues below this ad
Meanwhile, Makhachev has loads of benefits to gain in this fight. A matchup with a genuine prizefighter could raise his stocks and a win would only make it an even strong case for him to be considered for a title fight in near future.
WATCH THIS STORY: 5 unknown facts about UFC president Dana White
Although it's a mouthwatering prospect, the more visible option for Makhachev seems to be a fight with Rafael dos Anjos. Since most of the top fighters are (and probably will) neglecting Makhachev, a fight with RDA seems to be the only genuine high voltage clash for the former at this moment.
ADVERTISEMENT
Article continues below this ad
It remains to be seen what UFC has in store for this talented fighter.