Mohammad Amir Announces his Retirement from Test Cricket
Published 07/26/2019, 6:38 AM EDT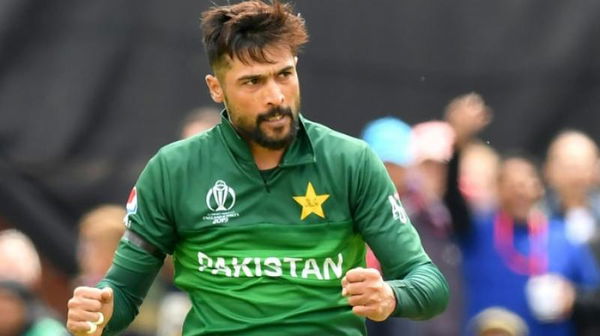 ---
---
27-year old Pakistan player Mohammad Amir has announced that he will retire from Test cricket duty. He also confirmed that he remains fully committed to the other two formats of the game.
ADVERTISEMENT
Article continues below this ad
In a statement issued by the Pakistan Cricket Board (PCB), he said, "It has been an honour to represent Pakistan in the pinnacle and traditional format of the game. I, however, have decided to move away from the longer version so I can concentrate on white ball cricket."
"Playing for Pakistan remains my ultimate desire and objective, and I will try my best to be in the best physical shape to contribute in the team's upcoming challenges, including next year's ICC T20 World Cup."
ADVERTISEMENT
Article continues below this ad
"It has not been an easy decision to make and I have been thinking about this for some time. But with the ICC World Test Championship commencing shortly, and Pakistan boasting some very exciting young fast bowlers, it is appropriate that I call on my time in Test cricket so that the selectors can plan accordingly."
"I want to thank all my team-mates as well the opponents in red ball cricket. It has been a privilege to play with and against them. I am sure our paths will continue to cross in limited-overs cricket as all of us play and compete with the same vigour and determination."
"I also want to thank the PCB for providing me the opportunity to don the golden star on my chest. And, I am grateful to my coaches who have groomed me at various stages of my career."
Mohammad Amir has today announced his retirement from Test cricket with immediate effect, but reaffirmed his commitment to playing white ball cricket for Pakistan #Cricket

— Saj Sadiq (@Saj_PakPassion) July 26, 2019
ADVERTISEMENT
Article continues below this ad
Following the announcement, PCB Managing Director, Wasim Khan heaped a lot of praise on Mohammad Amir. According to Khan, Mohammad Amir was one of the most exciting bowler in Test cricket. The PCB were gutted to see him go but respected his decision to step away and focus on white ball cricket.
Admittedly, Mohammad Amir has had quite a spotted career since his debut in 2009, during the ICC World Twenty20. Unfortunately, his career was marred by a spot-fixing controversy in 2010, where he and teammate Mohammad Asif, deliberately bowled no balls. Following a suspension and a tribunal, Amir was slapped with a seven-year ban, while the others accused, Mohammad Asif and Salman Butt got five years and 10 years respectively.
ADVERTISEMENT
Article continues below this ad
It got worse for Amir though, as he was caught flouting the ban in a Surrey Cricket League in 2011. The Pakistani player insisted that he made enquiries in respect of the status of the match. Apparently, he was informed that it was a friendly match and playing would not be in contravention of his ban. Even the team made enquiries and were supposedly given the green light.
Things got much worse for him, Asif and former captain, Salman Butt in 2011. This was because the two were convicted and Amir was guilty of conspiracy to cheat at gambling and conspiracy to accept corrupt payments. Luckily for Amir, he only served six months in juvenile prison, but the other two got much harsher sentences. Amir was later let out, after serving half of his sentence.