Mohammad Irfan Embraces His Playing Ban With An Adieu
Published 09/15/2017, 4:59 AM EDT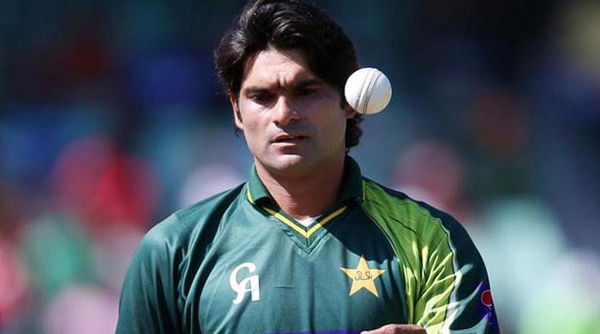 ---
---
The six-month ban on Mohammad Irfan recently has met its extremity on the very date of September 14. Meaning while the gargantuan pacer now successfully availed himself for selection for next month's Sri Lankan T20I series.
ADVERTISEMENT
Article continues below this ad
Read Also: http://www.essentiallysports.com/india-vs-australia-series-2017-shikhar-dhawan-indian-squad-first-three-odis-no-replacement-announced/
The 35-year-old was initially suspended for a year and fined Rs 1,000,000. This suspension took place after his admission of failing to report approaches by bookmakers. And that too surfaced in the aftermath of the infamous Pakistan Super League season 2 spot-fixing scandal.
ADVERTISEMENT
Article continues below this ad
Irfan along with his central contract suspended for six months provided substantial assistance to the PCB. Just similar to that abiding by the stipulation of the terms of punishment also participated in Anti-Corruption Education programs.
Read Also: http://www.essentiallysports.com/pakistan-vs-world-xi-1st-t20i-need-know-independence-cup/
He did possess the acquaintance of the suspension's guidelines. On the adherence of which he could shorten his playing-ban to six months. And due to his successful undertaking of the same guidelines he has embraced the success. He made himself free to resume his career.
Looking back, the fast bowler explains how difficult the past six months were. He also claimed this time span as the toughest of his life. Hence he is very much desperate to start playing cricket again.
From Irfan's mouth:
"As a cricketer, knowing that you cannot play cricket hurts badly," Irfan told The Express Tribune. "When a player gets ban from doing something he has done all his life, it really hurts.
Read Also: http://www.espncricinfo.com/story/_/id/20703715/hasan-ali-doubt-lahore-prepares-thrilling-finale
Irfan, to his credit, owns up to his mistake of not keeping the PCB abreast of the bookies' advances.
"I have realized how important it is to inform the PCB officials about anyone contacting for spot-fixing," he said. "I am glad that I was surrounded by such good family and friends who supported me well in these trying times."
The sting of the whole episode has been so sharp that Irfan suggests others to even report fixing jokes or lighthearted comments to anti-corruption officials at their earliest.
Read Also: http://timesofindia.indiatimes.com/sports/cricket/news/cant-force-india-to-play-bilateral-series-against-pakistan-icc/articleshow/60518531.cms
ADVERTISEMENT
Article continues below this ad
"I was late to inform them and faced all this," he said. "If I had informed them earlier this would never have happened. However, I am still thankful to the PCB for supporting me."
About the official announcement of his ban's expiration, he added: "As every official of the PCB is currently busy with the World XI series, the official announcement could take some time."
Irfan would want the announcement to come before September 25, which is when the Quaid-e-Azam trophy starts, with him planning to play for WAPDA.
ADVERTISEMENT
Article continues below this ad
"Once the announcement is made, only then I will be able to practice with the WAPDA team for QAT and work towards my comeback to the national team," he said.