MoistCr1tikal, Asmongold and Other Creators Condemn the Rise of Gambling Streams on Twitch
Published 04/27/2021, 10:45 AM EDT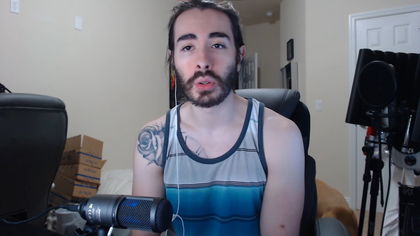 ---
---
Twitch has often created a lot of trends that their creators have used to improve views on their channels. Recently, the platform gained a huge following for the hot-tub meta where streamers record from their room wearing swimsuits. But another one of these trends that has also caught fire includes gambling. These streams include playing games like slot machines, blackjacks, and many more. A lot of streamers and content creators such as MoistCr1tikal and Asmongold have issues with this, and they recently voiced their displeasure at Twitch.
ADVERTISEMENT
Article continues below this ad
ADVERTISEMENT
Article continues below this ad
MoistCr1tikal talks about the popular gambling streams on Twitch
Recently, MoistCr1tikal and popular streamer xQc had a war of words over gambling streams. Charlie has often stated that he doesn't like seeing these kinds of content on Twitch. He recently talked about it and said that these streams can become highly dangerous if they become very popular.
"I see gambling's been kind of f****** big these days. That's a little dangerous. I have never had a problem with it, but I see a lot of young people not here, not necessarily here, but I was watching, and it seems a bit dangerous, I think."
Along with that, he even revealed that these streams could be detrimental, especially to the younger audiences. He believed that these streamers take a lot of losses on gambling, and he doesn't mind them doing that. But, if the younger viewers watch them win a ton of money, then it could attract them into gambling, which could become catastrophic.
"When you see your favorite streamer get like a huge payday and you're like an impressionable 15, 16-year-old."
Asmongold calls for a change from Twitch
Asmongold, a popular World of Warcraft streamer, also tweeted about the popularity of gambling streams. He believed that gambling should be illegal in all forms such as video games, casinos, and many more. Along with that, he also wished that Twitch would do something about the rise in popularity of these trends, and create bans to stop them from getting popular. He called for the platform to make stricter rules and regulations to decrease the popularity, and prevent creators from making videos on it.
ADVERTISEMENT
Article continues below this ad
A lot of talk about gambling streams recently

I personally hate gambling and, if it were up to me, all forms of casino gambling would be illegal

If its not against TOS people will do it though, its up to Twitch to decide if it should be

Hating on streamers wont change anything

— Zack (@Asmongold) April 25, 2021
Gambling has always been a major source of debate in video games. For years, players have asked for government regulations regarding loot boxes in various titles such as FIFA and many more. But with Twitch streamers, it promotes the activity a lot, especially to the younger audiences. It would be interesting to see if the platform ever decides to make some changes to prevent metas like gambling and Hot Tub streams.
ADVERTISEMENT
Article continues below this ad