Most Bizarre Pastor Maldonado Crashes in Formula One
Published 12/20/2019, 4:19 AM EST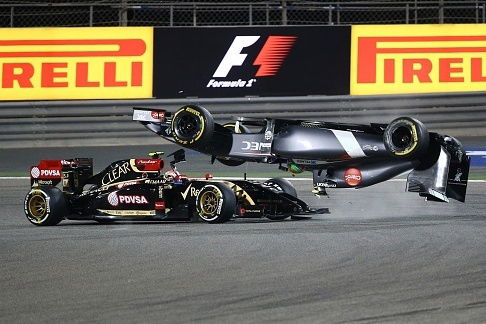 ---
---
Venezuelan racing driver Pastor Maldonado is pretty much a fan favourite, albeit for a different reason. The 34-year old has built himself a reputation in Formula One and in junior series, as a crash king.
ADVERTISEMENT
Article continues below this ad
Many have actually trolled him and turned him into a joke for his antics and affinity to crashing. Some of his crashes have been particularly scary, while others have been bizarre, to say the least.
2012 European Grand Prix
ADVERTISEMENT
Article continues below this ad
Maldonado's victim was the then McLaren driver Lewis Hamilton, ending the latter's race. Back when the Williams F1 team was still somewhat competitive, the Venezuelan was tussling with Hamilton for position. At the time, Hamilton's tyres were worn out and came under attack from the Williams driver.
He attacked Hamilton at turn 1 on the penultimate lap, but the British driver defended well. Then, on the run down to turn 13 using DRS, Maldonado tried again, with Hamilton taking the inside line. He forced the South American off the track, and the latter tried to rejoin. Unfortunately, he clipped the kerb at the next turn and bumped Hamilton into the wall and out of the race.
2013 Belgian Grand Prix
Sometime during the race, a titanic battle was brewing between Esteban Gutierrez, Maldonado and the Force India duo. All four cars approached the Bus Stop chicane and Gutierrez overtook Adrian Sutil and Maldonado. The German tried to get the position back, but tagged the Williams driver's front wing.
Maldonado attempted to turn off into the pit lane, completely forgetting about the second Force India of Paul di Resta. Nico Hulkenberg in the other Sauber just about managed to escape unscathed.
2014 Bahrain Grand Prix
ADVERTISEMENT
Article continues below this ad
During the 2014 Bahrain Grand Prix, Pastor Maldonado had just pitted for soft tyres. After the routine stop, he came out alongside the Sauber of Gutierrez, and the two battled for position. However, it all went wrong very fast, as he dived down the inside of the Mexican and the two touched. Gutierrez ended up flipping over, fortunately ending the right side up though the car was too damaged to continue.
2013 Monaco Grand Prix
ADVERTISEMENT
Article continues below this ad
At the 2013 Monaco Grand Prix, Pastor Maldonado was battling with the Marussia of Max Chilton. On lap 45 of the race, the Venezuelan clipped the British rookie and the former was sent careening into the barrier. Already, there had been a couple of safety car deployments, but this time there was a red flag to remove the broken Williams and repair the barrier.