Most Idiotic and Outrageous Race Starts in Formula 1
Published 03/28/2020, 3:50 PM EDT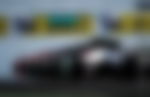 ---
---
We all know how important it is to get a good start in Formula 1. A good race start by a contender can turn the leader into a follower. Or can push you well ahead of the fighting midfield. Over the years, we have seen that race starts can be very unpredictable in F1 and can totally decide the outcome of the race or even a drivers' championship battle.
ADVERTISEMENT
Article continues below this ad
Here is a list of a few outrageous race starts of the modern era that are too good to forget.
Singapore GP 2017: Ferrari Teammates Take Out Max
ADVERTISEMENT
Article continues below this ad
Sebastian Vettel trying to overtake Max Verstappen put him on a collision course with his Ferrari teammate Kimi Raikkonen. The Finn has had a great start but the collision ended his run along with Vettel and Max. Chaos at turn 1 gave Lewis Hamilton the chance to move ahead and win the race.
Spanish GP 2016: Formula 1 Title Contenders Collide At The Start
This race is remembered because of two incidents. First, Max Verstappen won the GP in his first race in the RedBull team. And second, Teammates and title contenders Hamilton and Rosberg collided moments after the race start.
Belgium GP 2012: Maldonaldo-Romain Crash To Remember
The lap 1 accident in Spa was as chaotic as it can be. Lewis Hamilton, Pastor Maldonaldo, Romain Grosjean and Sergio Perez got into a series of accidents right at the start.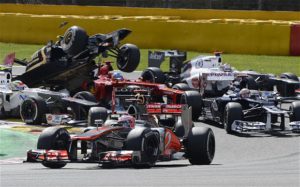 Australian GP 2002: Ralf Schumacher Flies Over Ferrari
Ralf Schumacher's efforts to overtake Ruben Barrichello launched him in the air at over 150mph. This launched a chain reaction taking multiple drivers out in the first lap.
Special Feature: Formula 1 World Championship Decider Japanese GP 1990
ADVERTISEMENT
Article continues below this ad
When we talk about memorable race starts no list can be complete without the lap one crash that made Aryton Senna the world champion. Senna made a very aggressive start and crashed into Prost while doing so. The crash put both the world championship contenders out of the race. And handed Senna the Formula 1 World Drivers' Title.
Coincidently the previous year during the same Japanese Grand Prix Alain Prost took the world title in a similar crash.
ADVERTISEMENT
Article continues below this ad