Remarkable Moments from Michael Schumacher's career
Published 01/03/2018, 3:30 AM EST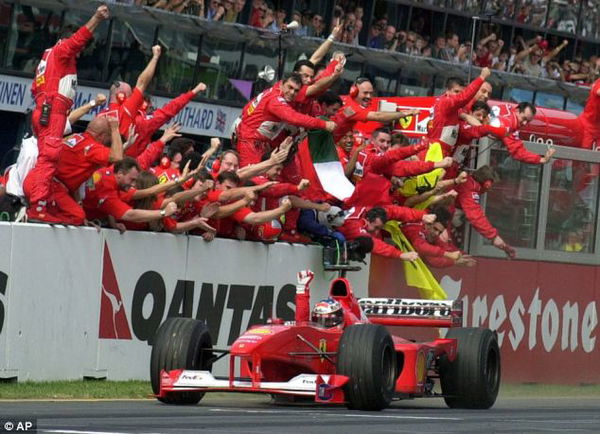 ---
---
The person who gave Formula 1 a new identity, the name which is included in the greatest of them all, the individual who is considered an era in Formula 1, Michael Schumacher. On the day of his 49th birthday, let us look at some of the best moments in Michael Schumacher's career.
ADVERTISEMENT
Article continues below this ad
Key Moments in Michael Schumacher's Career
ADVERTISEMENT
Article continues below this ad
What is your favorite memory of Michael Schumacher?
1. The beginning of an era: Qualifying lap at his debut race
It was the 1991 season and the championship fight was ever so close between Nigel Mansell and Ayrton Senna. Heading into the 11th race of the season, Jordan driver Bertrand Gachot was imprisoned and hence out of contention to race. The team decided to test a 22 year old German known for his good performances in Formula 3. That German was none other than our very own Michael Schumacher.
On August 25th, 1991, Michael Schumacher entered the sport as a substitute driver for Jordan. Nobody knew that he would end up leaving a legacy far greater than anybody else in the history, and quite possibly the future, of the sport. The dawn of Michael Schumacher's career has Bertrand Gachot to thank.
Schumacher with Eddie Jordan in Belgium. Courtesy: skysports
He became the talk of the paddock from the first few sessions itself. He had never driven on the circuit before. Spa is one of the most challenging circuits, thanks to fast paced corners and elevation changes. The team and Schumacher himself knew that his first objective was to finish the race. Before the start of the Friday session, Schumacher took his cycle and did a lap around the circuit. This was the only bit he had gone around Spa before sitting at the back of the Formula One car later.
In Qualifying, everyone saw the arrival of a great champion to be. Despite his meager experience, he ended up 7th on the grid, which was a remarkable achievement nonetheless!
He was a bit unfortunate in the race though as he failed to finish even one lap of the race owing to clutch issues with the car.
2. Most tragic win: Racing and winning the race after his mother's death, Imola 2003
https://www.youtube.com/watch?v=iovI-Yhz_WY
It was the fourth round of the 2003 season, held at Imola, Italy. The Schumacher brothers- Michael and Ralf had locked the front row on the grid on Saturday's Qualifying session. Post the Qualifying session, both of them took a private jet to visit their mother in Cologne, Germany. Elisabeth Schumacher, 55, was in a coma and suffering internal bleeding, reportedly after a fall at her home a week earlier. They soon flew back to Imola to take part in the race, Sunday morning.
On Saturday they were asked how they could manage to race while their mother's life was in danger. Michael and Ralf dismissed the questions. The organisers released them from the need to participate in post-race ceremonies.
Hours before the race, Michael and Ralf were informed that their mother had passed away, leaving the two of them pretty much doubtful for the race. To everyone's disbelief, they raced anyway, despite the emotional trauma. Ralf snatched the lead from Michael before the first corner itself before giving it up to Michael after the first pit stops. From then on, it was no stopping him, as he went on to win the race while Ralf just missed out on the podium, finishing fourth.
It was the first race victory of the season and the 65th race victory for Michael Schumacher. It was surely the saddest as well. Michael was emotional as he took the winning trophy. No champagne was sprayed on the podium as a mark of respect. Both the Schumacher brothers left the circuit immediately after the race and Michael's place in the post race conference was taken by Ferrari team principal Jean Todt. It was one of the more emotional moments of Michael Schumacher's career
3. First championship with Ferrari: Italian Grand Prix, 2000
Schumacher and his Ferrari were in top form winning the first three races in 2000. A string of retirements mid season, allowed the McLarens of Mika Hakkinen and David Coulthard to catch up.
With three rounds left, Hakkinen was two points ahead of Schumacher and McLaren led Ferrari by four points. The next race was the United States Grand Prix, where Ferrari had a 1-2 with Schumacher winning. Michael now had an eight point lead over the Finn.
With two races to go, twenty championship points were at stake. Next up was the Japanese Grand Prix at Suzuka. A win here would guarantee Schumacher his third title and first for Ferrari.
Schumacher was on pole and Hakkinen closely followed having lost the pole by 9 thousandth of a second! At the start, both the front runners got a clear start, but Hakkinen had faster acceleration and hence managed to take the first corner and hence the lead! The entire Ferrari garage suddenly had a tense look on their face.
The two pulled away from the rest of the field and were a class apart! Hakkinen maintained a certain gap to the German. The gap remained the same after the first round of pitstops.
On lap 28, it began to drizzle and things became a little tricky. Hakkinen lost a second of his lead due to traffic, while Schumacher had a small collision with Zonta. By lap 31, Schumacher's gap to the man ahead was a mere 0.7s.
On lap 37, Hakkinen pitted again and emerged 25.8s behind Schumacher. Schumacher had clear air ahead of him. Tweaks were made during his first pit stop to his car to give him some additional pace after compromising the overall additional stability required in the wet weather conditions.
Michael pitted 3 laps later and the Ferrari garage waited with bated breath. One tiny mistake from them would mean a huge disaster. When Schumacher exited the pits, Hakkinen was just entering the start finish straight! Schumacher was now ahead of Hakkinen by more than 4s.
He had the lead and the pace, all he needed was a flawless race. The Finn behind him was slowly catching up, but that made no difference  to Schumacher who went on to win the race by a margin of 1.8s!
He was the 2000 Formula One World Champion! His third championship and first for Ferrari. He also became the first Ferrari driver since Jody Scheckter in 1979 to be crowned a champion!
4. Schumacher's first win for Ferrari: Spain 1996
The season of 1996. It marked the dawn of a new era for Formula One, the one that won't be forgotten easily. The era of Schumacher-Ferrari. Michael Schumacher, riding high on his success in the '94 and '95 World Championships, had moved to Ferrari to establish a new partnership, that would last no less than 10 years, including 5 championships.
Despite the much hyped partnership, it was Damon Hill in Williams who was making more news than the Ferrari. With four wins in the first five races, Hill made sure that no Schumacher could deny him the championship this year.
After a few podiums here and there, Ferrari were still struggling for a win. And their first win of the season came as a very memorable one, in Spain at the Circuit de Catalunya.
Damon Hill was on pole and Williams had the edge over Ferrari. But Ferrari had something, or rather, someone to challenge the might of the Williams…Schumacher.
After a dry Qualifying on Saturday, it was raining heavily on Sunday. Schumacher was very strategic and took the gamble of a full wet set up with light tanks.
Hill had a poor start and a couple of spins meant he dropped further back. The rain was torrential which meant by lap 11, there were only 12 cars running with 20 having started. Schumacher himself had a shockingly poor start, almost stalling. Recalling the incident,  "My start was a disaster," Michael said. "I went for the clutch, and there was nothing. I nearly stalled, then tried it again. Fortunately, no one went into the back of me."
He was ninth by the time he crossed the first corner. He had gained three positions already by the end of the first lap. On lap five, he was up to third thanks to a couple of cars in front spinning out, and of course his sheer control over his Ferrari. On that particular lap, he lapped two seconds quicker than anyone else on the circuit! Next lap, he was a whooping 3.7 seconds quicker than the two drivers ahead of him, Jacques Villeneuve and Jean Alesi.
On lap 12, German overtook Villeneuve for the lead with a perfectly timed overtake at the Renault right hander out of Respol. He now had the clean air, and by the end of the lap, he was three seconds clear of everyone.
He made it all look very easy. It seemed as if he was driving in dry weather conditions. Such ease with which he drove to be 3 seconds faster than almost anyone. He set up his fastest lap on lap 14, which was again a massive 2.2 seconds clear of what anyone else managed in the race.
He took the race victory comfortably later, being 45 seconds clear off the field and lapping every other car but Alesi and Villeneuve who finished at second and third respectively. Shockingly, only six cars managed to cross the finish line.
The Spanish Grand Prix of 1996 marked Schumacher's first victory for Ferrari. Although the car Ferrari gave Schumacher that year was no match for Damon Hill's Williams, in track conditions like these driver talents matter more than anything else. It was a perfect strategy for Schumacher and his brilliant ability to master over the torrential weather conditions makes this race one of the best wet race victories in the sport.
This race victory is very often regarded as the German's finest win, something that proves his earned nickname of 'Regenmeister'  or Rain Master.
"It was not a race. It was a demonstration of brilliance."– Stirling Moss for Schumacher after this race.
But the most vivid praise came from the opposition. Williams senior operations engineer James Robinson said, "I don't think the Ferrari was that brilliant. It looked like it was on ice to me. That guy is something else. It was pretty amazing." 
Legendary is only how you can describe it.
5. Unexpected Pole at Monaco in 2012
Schumacher retired at the end of 2006 season and came back with Mercedes in 2010. His last pole was in France in 2006. The seven-time world champion who had been inconsistent the whole season came to Monaco with a 5 place grid penalty for colliding with Bruno Senna in Spain. By the time Webber set the fastest time in Q3 there were only 3 cars who were on their out lap i.e Schumacher, Rosberg and Grosjean.
Only Schumacher was able to eclipse Webber's time by eight hundredth of a second. But unfortunately due to the 5 place grid penalty he was not awarded the pole position and had to start 6th on the grid.
Schumacher was quite ecstatic about setting the fastest time. "It is simply a wonderful feeling to set pole after such a long time, and particularly here in Monaco. Okay, it has taken a little bit longer than I might have wanted in the second chapter of my career, but that makes it even sweeter. It's just beautiful."- the seven time world champion said.
6. Schumacher breaks into tears after winning 2000 Italian Grand Prix
Michael Schumacher maintained his start line advantage and withstood Häkkinen's attempts to pass him going into the first corner. Further around the lap, a collision involving four cars prompted the deployment of the safety car and the fire marshal Paolo Ghislimberti was struck by a flying wheel. When the safety car pulled into the pit lane on lap eleven, Michael Schumacher began to immediately pull clear from Häkkinen and kept the lead until his pit stop on the 39th lap. When Häkkinen made his own pit stop three laps later, Michael Schumacher regained the lead which he held to clinch his sixth victory of the 2000 season and 41st overall. In the post race press conference Schumacher broke into tears after being asked about how he felt about his 41st win as he equaled Ayrton Senna's record.
His victory was significant on many levels. He just came close with maximum number of Grand Prix wins despite the pressure from the fans and team as he did not do well earlier races. He missed last year Monza because he broke his leg at Silverstone.
Ayrton Senna, a man Michael Schumacher respected a lot, admired and that he saw handle the same kind of pressure ( that he has had this year) with dignity, pride and perseverance. A man that many, including Michael Schumacher himself, feel to this day that he would, could and should have gone on to win more victories and become the all-time winning F1 driver, had he been luckier on that fateful May 1, 1994 at Imola. A man that Michael Schumacher was following at Imola 94 and who he saw inexplicably drive off to the right at Tamburello. All he would have thought at the safety car was to keep his tyres warm. So as he was asked in the pressroom what significance his record tying 41st victory to the great Ayrton Senna meant to him.

7. The fightback of Hungary 1998
The Hungaroring isn't too known  for all time classic battles or intense duels, apart from a few exceptions like in 1986 between Senna and Piquet and in 1989 between Senna and Mansell. But the race of 1998 proved to be a memorable one for everyone for it involved a perfect blend of strategic excellence and sheer pace. It involved the perfection of Schumacher-Brawn
Before heading into the race, Mika Hakkinen, in his McLaren, lead Michael Schumacher's Ferrari by 16 points. Schumacher needed to finish ahead of the McLaren to stay in the championship battle. He qualified in the third place, behind Hakkinen while the McLaren of David Coulthard was second, followed by Damon Hill's Jordan in fourth.
At the start of the race, the two McLarens and Schumacher held their positions which meant trouble for Schumacher. Hakkinen had complete control over the race with more than 4s in the lead and Coulthard was under constant pressure from the Ferrari behind. He was stalling Schumacher to let Hakkinen go ahead with the race.
The first rounds of pit stops ended on lap 28 when Hakkinen pitted and rejoined in the lead, with the top 3 maintaining their position. By lap 30, he had a good gap of 4s on Coulthard, but by lap 37, it was reduced to a mere couple of seconds. It was certain that his car was not at its 100%. Schumacher was on the back of Coulthard and Hill, and Villeneuve were catching up as well. Coulthard was successful stalling everyone up and thus giving Hakkinen a breath of fresh air.
In lap 42, Schumacher decided to dive inside the pit lane again, meaning a different strategy. Ferrari's Ross Brawn decided to play a master stroke to turn the tables for itself. He decided to switch Schumacher to a three-stop strategy in order to gain some fresh air since he was stuck behind the McLarens. However, the strategy was difficult to implement as it required Schumacher to run nearly 20 laps in Qualifying pace since he had to take another pit stop later in the race.  Brawn messaged Schumacher on the radio that he had to make up 25s in just 19 laps. And Schumacher was on it.
McLaren responded to Ferrari's call and decided to bring Coulthard in on lap 44, so as to ensure the Ferrari doesn't get clean air. But the McLaren's were late to respond. Michael's pit-stop, out lap and the lap after, ensured that he was ahead of Coulthard by 4s by lap 45 and catching Hakkinen and his crawling McLaren. McLaren panicked and called Hakkinen on lap 46. By the time his stop was completed, Schumacher was way past him.
He was in the first place after the second round of pit stop by cutting under the two McLarens. But, he had to take another pitstop, whereas the McLarens were free of any such burden.
Such was the might of Michael Schumacher that he managed to run nearly a second faster than Hakkinen and Coulthard. Lap after lap, he ran with a Qualifying pace, lowering the fastest lap by nearly half a second. As he was running away, Hakkinen had problems with his shock absorbers. He was holding up Coulthard, and only four laps later was he allowed to go ahead of the Finn.  Schumacher was running away, trying to stay in the championship and establish that 25s lead.
15 laps before the race ended, his lead was 27s. He took his pit stop and again managed to take the lead from the McLarens! It was game over for the McLarens who just couldn't survive the Schumacher-Brawn excellence. It was not just a victory for Schumacher but for Ferrari, for Ross Brawn, because the strategy required every bit of it to be perfect-perfect lap times, perfect pit stops and perfect pit calls. Schumacher finished 9s ahead of second finish Coulthard. Hakkinen on the other hand, somehow managed to steer his car to the finish line in sixth position.
Hungary, 1998 is a very fine example of why Michael Schumacher is always considered among the best. Except for a small visit to the grass on lap 52, he ran the race perfectly. Not only him, the people involved with Schumacher were also the best Ferrari ever had. There's a reason why Schumacher era will always remain amongst the most dominated period for the Ferrari team. Schumacher's excellence was not only through his sheer pace and skills but also due to the Ferrari team that ensured he always got the best.
"It was fantastically emotional at the end," Schumacher said. "The people went mad. Thanks to them for helping me and making this one of my most special wins.
"I had a dream something like this might happen, but I thought it was only a dream. I could not expect this. The team got the right strategy and did a great job.
"It didn't work at the start and I had to push like hell when Ross decided to go for the three stops. When he told me what I had to do, I said 'thanks very much'. It was like 60 qualifying laps in all, but it worked."
Schumacher ended up winning here in Hungary a record four times. Lewis Hamilton also stands at par with him with four victories on the Hungaroring.
8. Pit Fight with Mclaren and Coulthard
The fight in Mclaren's garage between the two greatest rivals was one the great off track events to remember. It happened in Belgium 98′. It was raining heavily with almost zero visibility. Schumacher was comfortably leading the race and was going to lap Coulthard.
David was trying to slow down his car since Michael was already one lap ahead him and he should be giving his way to be overtaken by Michael according to the rules. In fact, Michael crashed on David's car and the conflict began.
David's side said that he was true in slowing down and allowing Michael to pass his car. On the other side, Michael said that he was being sabotaged since David slowed down his car all the while still still blocking Schumacher's car and ended up with Michael losing his right front tyre due to crashing in David's car rear. Both of them could not continue the race and went back to their pit garage.
Schumacher climbed out of his car and shrugged off engineers who tried to prevent him from marching towards the McLaren garage. There he angrily faced Coulthard before being hauled away. " Are you trying to kill me?" shouted Michael according to F1 Racing magazine and he was ready to attack David. All people surrounding them: Mclaren's and Ferrari's team crew, and the TV crew were trying to separate the two.
"He came into the garage like an animal, saying I tried to kill him," said Coulthard, who finished a distant seventh. "I find his behaviour absolutely disgusting. If he wants to discuss it quietly, man to man, then fine, but this attitude is totally unacceptable. If he's accusing me of that, I've no interest in talking to him. Any allegations he's made are completely untrue and the video evidence will prove it."
Schumacher responded: "He brake-tested me. Obviously lifting on the straight like he did when I hit him is very dangerous. He has the experience to know you do not slow down on a straight like that without giving any warning."
9. First Grand Prix win at Belgium 92′
Nigel Mansell took the pole position and Schumacher started third on the grid behind Senna. The race started with stormy weather and later dried up.
Senna and Mansell had battles in the beginning part of the race. But due to rain the grid shuffled during the pit stops. As later the track dried up Schumacher ran off wide with the wet tyres damaging his tyres. He came into the pits for a set of dry tyres which acted as a great advantage on fast drying track. As Mansell to came in for dry tyres, it took him long to fix the tyres which let Schumacher take the lead and win his first Grand Prix.
ADVERTISEMENT
Article continues below this ad
The Benetton B192's win also marks as the last F1 car to win a Grand Prix while sporting a H-Pattern manual gearbox.
10. Finished 2nd at Catalunya 94′ with one gear for 2/3rds of race
ADVERTISEMENT
Article continues below this ad
Having won six of the first seven races, Schumacher started on pole(his second) at Catalunya just weeks after tragic death of Ayrton Senna. He was comfortably leading the race when in the midst of the first round of pit stops, Schumacher's Benetton became stuck in fifth gear, leaving Hill in the lead. Despite the near-impossibility of driving the remainder of the race in fifth gear he produced great lap times and also made two pit stop being stuck in 5th gear. As he was losing time Hakkinen made progress but his engine failed which helped Schumacher to finish 2nd at the end.