Most UEFA associations back Infantino for FIFA presidency
Published 01/22/2016, 2:17 PM EST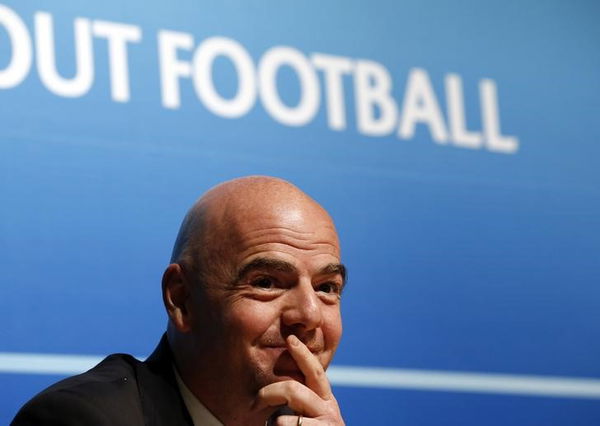 ---
---
By Brian Homewood
ADVERTISEMENT
Article continues below this ad
NYON, Switzerland (Reuters) – Gianni Infantino's bid for the FIFA presidency with the aim of leading the world football body out of the worst graft scandal in its history was boosted on Friday when the Swiss lawyer won "overwhelming" backing from Europe's football associations.
Infantino, general secretary of European football's ruling body UEFA and initially seen as a stop-gap candidate, said he was confident of winning the Feb. 26 election and dispelled the suggestion of a deal that would involve him withdrawing.
ADVERTISEMENT
Article continues below this ad
The 45-year-old entered the race to succeed disgraced president Sepp Blatter after UEFA head and FIFA presidential candidate Michel Platini was suspended pending an ethics investigation in October.
But when Platini was banned for eight years from all football activities by FIFA's ethics committee last month, Infantino became a candidate in his own right and has since been travelling the world canvassing votes.
UEFA also said in a statement it would not schedule a presidential election to replace Platini until the Frenchman's appeal process had been completed.
"We hope his name is cleared and that he can return to the European football family as quickly as possible," it said.
FIVE CANDIDATES
The 53 European members of FIFA met on Friday and UEFA said in a statement following the meeting that they would back Infantino, a move which was not unexpected but still a significant fillip to his campaign.
"UEFA's national associations overwhelmingly expressed their support for Gianni and will officially announce their individual positions in due course," said UEFA.
Infantino said there was no chance that he would make a deal with Asian Football Confederation president Sheikh Salman Bin Ebrahim Al Khalifa, another of the candidates, which would involve the Swiss pulling out of the race.
"I have been able to tell (the UEFA associations) that there is no question of any deals, I am a candidate for the FIFA presidency until the end," he told reporters.
"I have travelled all around the world in the last three months, I see boys and girls playing football and see the joy in their faces, that is why being the president of FIFA is such a big responsibility."
FOOTBALL PERSON
FIFA's 209 member associations each have one vote in the election. Infantino is one of five candidates, two of them European, standing in the Feb. 26 election.
"I'm not the European candidate, I'm not the UEFA candidate," said Infantino. "I'm a football person, so I feel that I am the candidate for football."
ADVERTISEMENT
Article continues below this ad
Sheikh Salman, former FIFA deputy general secretary Jerome Champagne of France, South African businessman and politician Tokyo Sexwale and Jordanian ex-FIFA executive committee member Prince Ali Bin Al Hussein of Jordan are Infantino's rivals.
Blatter, who had been in charge at FIFA since 1998, was banned from football for eight years in December.
Forty-one individuals, many of them national association presidents, and entities have been indicted in the United States for bribery, money laundering and wire fraud since May.
ADVERTISEMENT
Article continues below this ad
Blatter and Platini, who had been a strong favourite to succeed him, were banned over a payment of two million Swiss francs ($2 million) made to the Frenchman by FIFA with Blatter's approval in 2011 for work done a decade earlier.
(Reporting by Brian Homewood; editing by Ralph Boulton and Ken Ferris)