WATCH: Scary Crash That Led to 14-Year Old MotoGP Hopeful Hugo Millan's Tragic Demise
Published 07/25/2021, 6:07 PM EDT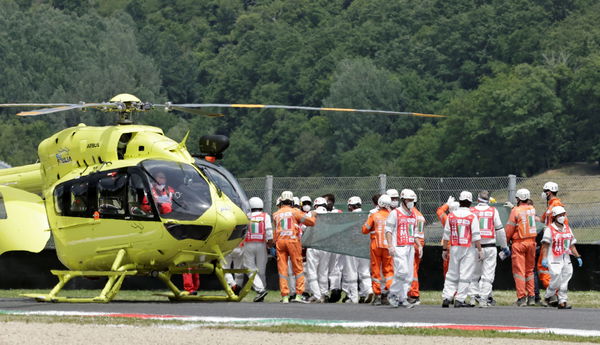 In motorsport, authorities have taken many steps to ensure the safety of competitors, marshals, and spectators. However, there are occasions where 'freak' accidents occur, which, given the high-speed nature of motorsports, can prove to be very dangerous. Sadly, the CEV Repsol championship confronted that harsh truth recently; 14-year-old Hugo Millan died in a massive motorbike accident.
ADVERTISEMENT
Article continues below this ad
At his home race in Motorland Aragon, the teenager was running in the leading group. However, he suffered from a high-side that pitched him off the bike.
While it was a fairly standard crash in motorbike racing, Millan was in the middle of the track on the racing line, which means he was in quite a dangerous zone.
ADVERTISEMENT
Article continues below this ad
The rider realized that and thus, tried to get off the track. Unfortunately, he couldn't make it in time, and another bike struck his bike and body.
Later on, news broke that poor Hugo Millan had succumbed to his injuries. At the age of 14, the young Spaniard had his whole life ahead of him, and to see it cut short is pretty cruel.
Hugo Millan is not the first casualty
ADVERTISEMENT
Article continues below this ad
It is worth noting that Millan's crash was frighteningly similar to Franco Uncini's accident in 1983. Around that time, Uncini high-sided off his bike and tumbled off.
He knew that he was still in the middle of the track and tried to scamper out of the way. Unfortunately, he came right in the path of Wayne Gardner, whose bike stuck Uncini in the helmet. Somehow, Uncini survived the impact and now serves as the FIM Safety Officer in MotoGP.
Millan's accident also comes barely two months after Moto 3 rider Jason Dupasquier died in a crash.
ADVERTISEMENT
Article continues below this ad
Our thoughts and prayers are with Hugo Millan's loved ones and we hope he rests in peace.