Watch: The Entire Race in Bathurst Was Put to Hold After Two Kangaroos Decided to Act as a Safety Car
Published 02/01/2020, 2:10 PM EST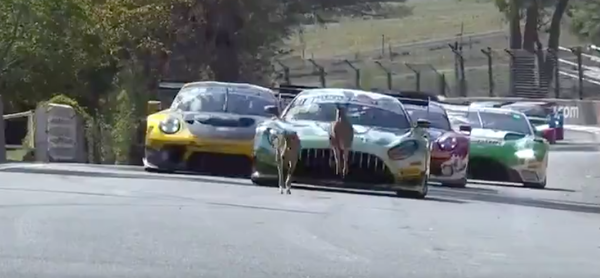 In motorsport, mid-race interruptions are highly uncommon, owing to the vigilant security and marshals. However, there are some occasions when someone or something slips under their radar, only for cameras to pick them up. This was certainly the case at the Bathurst 12 Hours race in Australia. The race was forced to be red-flagged, because of an encounter of the wild kind.
ADVERTISEMENT
Article continues below this ad
Apparently, two kangaroos somehow managed to invade the track and were happily hopping along the circuit. Meanwhile, the cars filed in behind them, waiting for the critters to leave the circuit soon. All in all, it made for an amusing scene, as the kangaroos acted as an impromptu safety car for a while.
ADVERTISEMENT
Article continues below this ad
ADVERTISEMENT
Article continues below this ad
Is Bathurst the only race to experience such an interruption?
The answer is no, as a few other racing series have had their fair share of track-invaders. Even Formula One is no exception, with visits humans and animals briefly invading the circuit.
The most note-worthy incident, was at the 2015 Singapore GP. Cameras spotted a man casually strolling by the side of the track before he walked away. Also, at the 2003 British Grand Prix, a man got onto the track and ran towards the cars. Luckily, the marshals tackled him.
ADVERTISEMENT
Article continues below this ad
Coming to the critters, the 2001 Austrian GP sticks out, when Williams F1 told Juan Pablo Montoya that a deer invaded the track. This immediately spiralled off into a spot of banter between driver and team. In 2015 again, a groundhog found itself at the Circuit Gilles Villeneuve, while it was a fox in 2012.
Canada appeared to be a popular destination for critters, as Sebastian Vettel lost his win owing to a couple of seagulls. Other creature encounters included Adrian Sutil almost running into a dog at the 2011 Indian Grand Prix. Finally, Max Verstappen had an encounter with 'Godzilla', a huge lizard at the Singapore Grand Prix in 2016.