WATCH: Flag-Waving Leads to a Near-Fatal Moment at Le Mans 2021
Published 08/23/2021, 11:20 AM EDT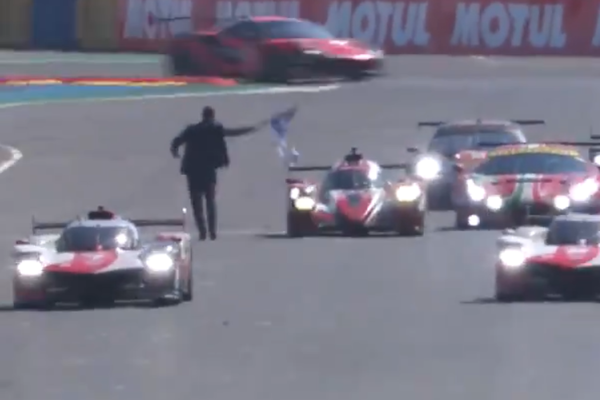 ---
---
There are a lot of traditional aspects in motorsport that have made their exit. However, a recent incident at the Le Mans 24, highlighted the importance of the need for some changes in the sport.
ADVERTISEMENT
Article continues below this ad
The waver of the checkered flag dodged the possibility of a life-threatening situation. As the race came to an end, the cars crossing the line were scaringly close to the mean waving the flag on the track.
ADVERTISEMENT
Article continues below this ad
The leading cars battled for position in the final lap that lead right to the end. The race winner, Robin Frijns, nearly collided with the official as he crossed the finish line.
A narrow miss at Le Mans
Robin Frijns was defending his position against Tom Blomqvist as he crossed the line. There were cars in front of him that slowed down to avoid an extra lap, moving to the side. Therefore, Frijns knew the finish line was just ahead.
As a result, he picked up the pace. Frijns commented on the incident, "basically the rear was coming, facing right and then I was turning hard left because I saw the checkered flag guy standing there. If I would hit the guy, he would be dead."
Read more: REPORTS: Wolff & Lawrence Stroll Under Investigation for Insider Trading Amid Aston Martin F1 Fiasco
The Dutchman added that the distance between his car and the official was "like half a meter or something like that."
Bumpy race for Robin Frijns
The Dutch driver's race wasn't easy. He seemed to have the race in hand initially, but a broken air jack soon became a hurdle. In the last moments of the race, he gained the lead after the sister-car broke down.
Yifei Ye handed the race to Frijns in the final lap as his car faced suspected electrical issues.
ADVERTISEMENT
Article continues below this ad
Describing the moment, Frijns added, "At the moment I feel kind of strange, to lead three-quarters of the race and then losing it because of issues. Then got it back in the last lap, so obviously I'm happy, I'm also feeling strange you want to win on pure pace which I think we should have done if it wasn't because of the issues."
ADVERTISEMENT
Article continues below this ad
He concluded by saying that it could have been a one-two finish for the team. "Seeing your sister car break down in the last lap is painful for the team. Especially because I think the team was spot on with their one-two throughout the whole race. So we should have finished one-two."
Watch this story: Mad Max: Verstappen's Angriest Rants on Team Radio