WATCH: Sophia Floersch Suffers a Horrible Crash in WEC; Wish Pour in From Damon Hill
Published 08/22/2021, 1:37 AM EDT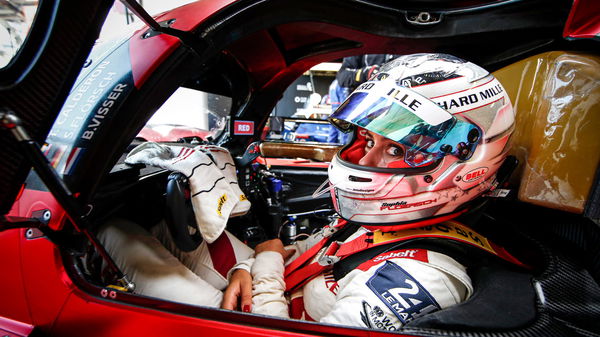 ---
---
A horrific crash interrupted the 24 hours of Le Mans, which was caused because of the heavy downpour. Sophia Floersch spun out, wreaking havoc on the track. As a result, they deployed the safety car, stopping the race for a while.
ADVERTISEMENT
Article continues below this ad
The German racer had an accident because of the rain and caused another collision on her way to the track. Damon Hill hoped for good health for the driver as her second accident was nothing short of petrifying.
ADVERTISEMENT
Article continues below this ad
Floersch is now reported to be in the medical center but has been given the initial all-clear.
ADVERTISEMENT
Article continues below this ad
Sophia Floersch incident at FIA WEC
Almost an hour before the incident, teams took to the radio to warn their drivers of the possibility of rain. They severely underestimated the weather as what they predicted to be light rain was, in fact, a heavy downpour.
ADVERTISEMENT
Article continues below this ad
The LMP2 prototypes were the most affected by the change in weather; the #29 Racing Tea Nederland lost control of the rear in the first corner of the WEP and was off the track.
Then, the #1 from Richard Mille, under Sophia's control, crashed. Franco Colapinto had lost control of his car and crossed her line. Floersch was unable to evade the collision.
As her she made her way back to the race, something went wrong with the car; the 'Roxy' didn't move. Sophia's team radio revealed to the team that the car had stalled.
And this time, James Winslow in the #74 India-Eurasia Entry, rammed into the side of the Richard Mille, making it Sophia's second accident in a matter of minutes.
Consequentially, Sophia Floersch was taken to the medical center for a check-up. For her and her teammates Tatiana Calderon and Beitske Visser, the 89th Le Mans culminated earlier than they would have liked.
Sophia is at the Medical Center for safety reasons. She talked with the team that she is OK. #sophia #lemans24

— Sophia Floersch (@SophiaFloersch) August 21, 2021
Visser had been extremely excited about the big challenge. "It's definitely the race we are most looking forward to. Last year we made no mistakes in the race, our goal is again to make no mistakes and to get a good result." The incident, unfortunately, robbed the newly formed Richard Mille team of a chance at the endurance cup.
Watch this story: Lewis Hamilton's Biggest F1 Crashes