Mourinho could face toxic dressing room, says Cascarino
Published 12/16/2015, 12:59 PM CST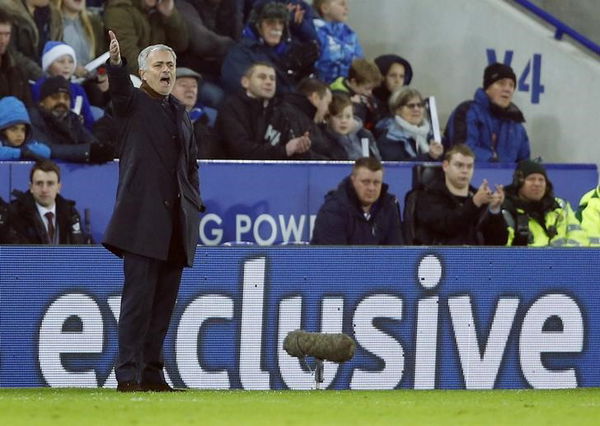 ---
---
LONDON (Reuters) – Jose Mourinho could be fighting to save his job amid a toxic atmosphere in the dressing room after he accused his Chelsea players of betrayal this week, according to the club's former striker Tony Cascarino.
ADVERTISEMENT
Article continues below this ad
A 2-1 defeat at Leicester City on Monday, the ninth loss in 16 Premier League games for the champions, has fuelled speculation that owner Roman Abramovich is poised to part company with the Portuguese coach who has won three league titles for the club.
The club's hierarchy were reportedly discussing Mourinho's position on Wednesday, although not at an "emergency" meeting as some media had described.
ADVERTISEMENT
Article continues below this ad
With the reigning champions just one point above the bottom three, however, Cascarino believes failure to beat fellow strugglers Sunderland this weekend at Stamford Bridge could signal the end for Mourinho.
"We must be surprised (that he has not been sacked)" Cascarino, who spent two years at the club from 1992-94, told Sky Sports News.
"History shows us, we've seen (Luiz Felipe) Scolari, Andre Villas-Boas, Roberto Di Matteo all make very quick exits.
"The only people I feel are still behind him are the fans, they still sing his name because they have so much affection for him but they are losing football match after football match."
Mourinho accused some of his players of "betraying his work" after the defeat by Leicester on Monday, and Cascarino believes he is now on dangerous ground.
"There is a fine line, how far you take it, how much criticism you can give to your team?" he said.
"Behind closed doors you can say a lot more but when you go public and talk of betrayal you are taking it to a level that a lot of players in that dressing room won't like.
"They'll start looking at Jose and thinking, forget about us, what about you? They will start looking at him, and it could make a toxic atmosphere in the dressing room."
Cascarino said Eden Hazard's hasty exit from the pitch after picking up a knock early on at Leicester was a worrying sign.
ADVERTISEMENT
Article continues below this ad
"You have to question the desire of some players to want to play for Jose," he said. "Take Eden Hazard on Monday night, the way he went off, he may have been injured but he didn't make much of an effort to stay on the pitch.
"It's a very strange atmosphere at the club. You can't have top players not working. There must be issues in that dressing room. Every player apart from the keeper has been dropped at some stage this season."
"He has tried everything. I think it's a last throw of the dice, they have Sunderland at home and Watford at home and anything less than six points I can't see him surviving."
ADVERTISEMENT
Article continues below this ad
(Reporting by Martyn Herman; editing by Clare Fallon)